String Art Ideas
Ideas to make your own String Art craft.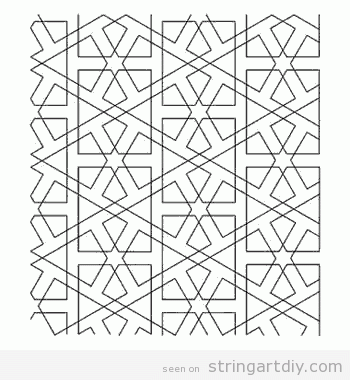 First of all, Happy Ramadan (Ramadan karim!) to all our islamic or muslim users and visitors.
Today we show us a pattern inspired in islamic geometry that we can see in mosques, wooden lattices at home, tiles in "hamam", etc. You can use this free pattern to make a beautiful String Art too.
We hope you like it and try some different geometric patterns 🙂
Source: Geometría Dinámica
Here you have a wonderful video to learn how to make a Wooden Box String Art Design with a lovely dandelion on it.
As you can see, it worth to paint the wooden box or varnish it in a darker colour and to cover or upholster the inside with a lovely printed fabric.
You can turn this box to into a jeweller o a box to put the teabags inside.
¿Do you like it? Try it and tell us about!
Source: Troom Troom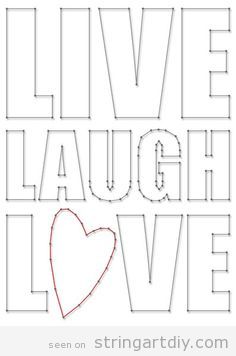 I really love these three verbs, they combine perfectly: "Live, laugh and love". It's a good message to write on a board, also if it is written with nails and threads, and a good idea to decorate a living room and to rembember all the family members to to these 3 things everyday.
Source: Spijker Patroon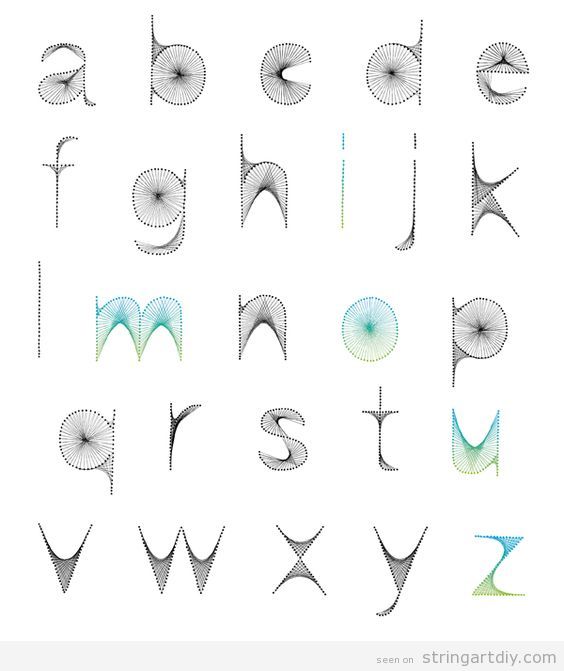 Thanks to Zim & Zou to share with us this amazing free String Art pattern. We can see all the alphabet letters on it!
If you wanna know how it will be once made, there is thig incredible animated gif!
You can see more pics from this project by clicking the following link: Weave type
We hope you find it interesting and useful in order to make DIY String Art names.
Here you have a wonderful and easy String Art DIY perfect to a wedding decoration. As you see, Mr & Mr are hammed, threaded and painted on a dark brown board and we think that is placed on the altar, but it's also a good idea to place it avobe the groom and the bride at the dinning table.
What do you think about this String Art? You can adapt it to the main colours of your wedding to have a ideal and suited decoration.
Hi everyone! Here you have a flower pattern to make a complex String Art, advanced level and kind of 70's style.
As always, you can download it for free.
We hope that this pattern could help you in order yo make easier the craft.
Source: Profilib
In this video, fashionwithpassion show how to make Sring Art letter. In this case, is the letter R, but you can choose whatever you want! This makes a perfect gift for a friend or a nice piece for room, shop or cafe decor.
I hope you enjoy it! Please, show us your crafts by sending your Twitter @stringartdiy
xx!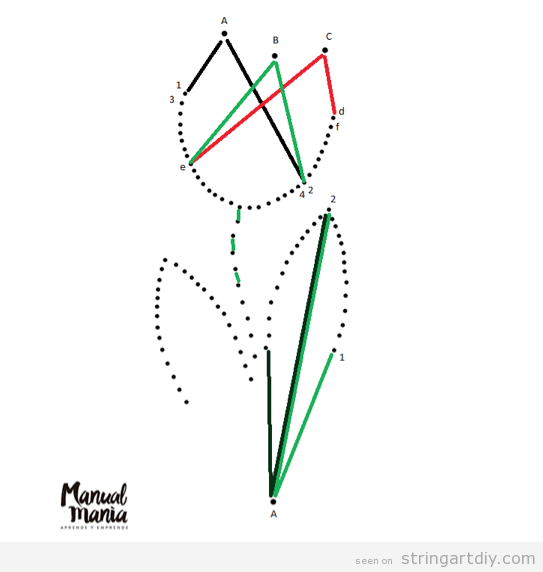 Here you have a flowers pattern that you can download for free. As you see, the shape is simple, so it's perfect for String Art beginners and kids. And even more, you can see numbers and letters to follow the thread sequence and make it simplier.
Doy ou like it?
HelloKids-us show us in this video a great way to make a Geometric String Art, even to make with kids. Look how they use clothespin in order to not to get damage in the fingers when you hammer the nail.
At the same thime they are having a great time making a craft, they learn geometry and maths. Just a perfect work to make with kids!