How to
To make this amazing Skull String Art to decorate your place for Halloween, you will need:- Canvas (anysize)
– Paint (your choice)
– Paint Brush
– String (your choice)
– Scissors
You can download the pattern for free in this link: Skull Pencil Drawing
Source: suzaxne
Hi, sweeties! Friday at least! If you will have a rainy weekend at your city and you will stay at home, there is a craft that you can make with your kids. As usual, we offer you a tutorial to learn how to make String Art projects.
In this case,
¡Hoy no hay cole!
(No school today!) show us how to make a cloud and rain String Art in a very easy way.
Enjoy it, have a great weekend!
Usually, we show you how to make String Art projects on a board or on a wall, but today we wanna show us how to malke a String Art flower on a cardboard, and, then, turn it into a brooch, bookmark or to decorate a scrapbook, whatever you like.
We hope you enjoy this easy craft taht you can also make with kids.
Source: Karenliz Henderson
¡Hoy no hay cole!
show us in this tutorial an easy way to make a String Art projects with kids. In this case, it's a wonderful dandelion made on  green painted a board. Just beautiful!
What could we do these cold days that our kids don't have to go to school and it's a better idea stay at home? Well, make easy String Art with them is a good idea. Here you have a nice tutorial to learn how to make birdie String Art step by step.
Bird Patterns
Here you have the patterns, free download!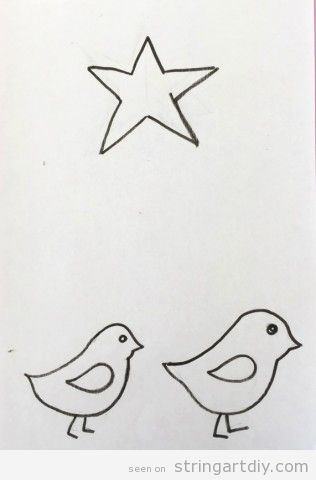 Source: ¡Hoy no hay cole!
If you have a low budget to decorate a wallroom, a shop or a cafe, that's a nice DIY that you can make. Take a carboard, make a space invaders shape using threads and a needle and frame it. Hang it on the wall and that's it!Source:
Ashur Sweet Dreams
Here you have a super easy DIY project to make with teens and kids. It's a wonderful heart shaped String Art and you can decorate a wallroom with it.
Source:
Manualidades Mimi
First of all, you need a good picture of the person you're making the hyperrealistic portrait and clue the nails point by point, like if they were pixels. You have to change also the colour of the thread to make sure that all the shapes are distinguished.
Source: Israel Narváez Romero
This is a nice craft to decorate a teenager beedrom.
Today we brign to you a cute boat String Art. Pay attention to the fact that she is using thumbtacks instead of pins. It's a better idea use them if we are going to make the crats with kids. It'ss less dangerous and easier.Source:
ekunji