Tutorial
Here you have a video tutorial to learn how to make a String Art directly on the wall. That's a nice decoration for a teenager bedroom. They can write whenever they want but, first of all, think about the holes you can left on the wall!
Via
zmatekstudio
Here you have a tutorial to learn how to make a String Art with the Superman Logo. That's a nice DIY craft to give to you boyfriend. He will love it!
via
Emily Berganza
on Youtube.
Here you have a simple String Art project but stil a nice one. Thanks to this tutorial you can learn how to make an squared String Art to decorate a wall. Lovely!
The point that makes this String Art really special are the wooden tacks because the impression is really beautiful. Follow this tutorial (by
scraparizate
) step by step to make this lovely and simple String Art. You only need a piece of wood or cork, a bounch of tacks and crochet treds. Here you have the free pattern to download.
By Koko90 (Own work) [GFDL (http://www.gnu.org/copyleft/fdl.html) or CC-BY-SA-3.0-2.5-2.0-1.0 (http://creativecommons.org/licenses/by-sa/3.0)], via Wikimedia Commons
Here you have a lovely an easy String Art project to make with your own or with your kids. You only need:
Corkboard
Flat Head Thumb Tacks
Map Tacks
Fabric
Monogram or Image for Project (sized to fit corkboard)
Sheet of White Tissue Paper
Thread
Tools:
Fabric Scissors
Marker or Pencil
Follow the step by step showed on the video and enjoy it.
via Kin Community on YOutube.
To make this lovely String Art we only need a pencil, a ruler, a scissor, embroidery tread, a hammer, a bunch of nails, rounded and small piece of wood and a heart pattern. After that, you must follow the steps showed on the video tutorial and here you have this nice crafts. It is simple, so you can make it with kids.
via AlishaCraft on YOutube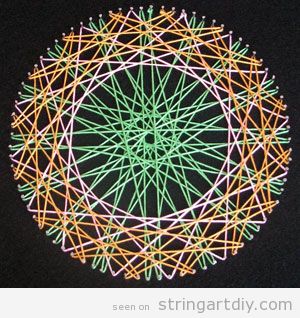 Hi! Here you have a tutorial to learn how to make a geometric String Ar step by step tutorial.
via
Monster Patterns
As we have seen on previous posts, you can also make String Art on cardboards. There's one idea for a Christmas Card made with spirelli, a dutch technique. Dou you love it? Me yes!
via Rosie Owens,
RubberStampRosie
, on Youtube
Here you have a tutorial to learn how to make a Tout Eiffel String Art, step by step. It's a little bit complicated and it takes a few hours to complete, but it worth it! It's amazing!
via
MrJanos100
As you see in this video, there's an easy and cheap way to make a String Art craft with kids. You should use a doble cardboard and tumbtacks instead of nails. Use simple patterns as hearts, stars or circles. You gonna love make this!
via
CitrusSlicesCrafts