DIY
Wow, if you really love sueprheroes, specially "The Avengers", this is the best craft ever to decorate a wall! That's also a nice piece of craft to give as a present to your geek son, friend or boyfriend. As you see, it's a 4 piece String Art. Love it!Source:
halftonehandicrafts
Here you have a tutorialn by
EasyMeWorld
where you can learn how to make a dream cather string art step by step. Super easy and cool, don't you think so?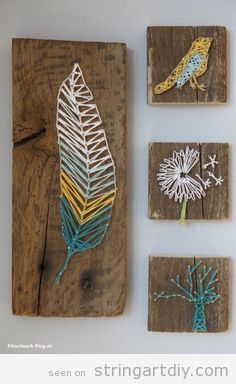 Oh, I really like this Strign Art mix: Feather, dandelion, tree and bird. Pay attention to the different dimensions and the way they form a bigger and more complex String Art.
That's a great idea to decorate a wall at home, a cafeteria or a shop.Source:
kitschwerk
Here you have a great tutorial to learn how to make a 70's style inspired Flower String Art made step by step by Sonia Goyal. I hope you like it and enjoy your craft!
Source:
ekunji
 on Youtube.
Here you have a video to take a lot of String Art ideas. It show us plenty of templates and the way we have to spin and tie it, step by step. Nice!
Via Любимый Урок
ElefantImGlashaus
show us in this video tutorial how to make a Batman Logo String Art. A really nice craft to sell or to give to a geek!