DIY
Here you have a String Art idea to make. You can also download the free pattern to make easier the craft. Enjoy it.
Here you have a lovely an easy String Art project to make with your own or with your kids. You only need:
Corkboard
Flat Head Thumb Tacks
Map Tacks
Fabric
Monogram or Image for Project (sized to fit corkboard)
Sheet of White Tissue Paper
Thread
Tools:
Fabric Scissors
Marker or Pencil
Follow the step by step showed on the video and enjoy it.
via Kin Community on YOutube.
To make this lovely String Art we only need a pencil, a ruler, a scissor, embroidery tread, a hammer, a bunch of nails, rounded and small piece of wood and a heart pattern. After that, you must follow the steps showed on the video tutorial and here you have this nice crafts. It is simple, so you can make it with kids.
via AlishaCraft on YOutube
The thing I love the most from this String Art is the fact that the head of the pins are big, rounded and bronze coulour, wich fits a lot with green and pink pale colours from the flower.
via 
artofart.net
If you want to make a
String Art
,
Star of David
shaped, here you have a
free pattern
to download. Have a good craft!
via Agota on
stringart.ro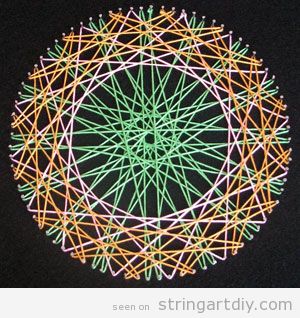 Hi! Here you have a tutorial to learn how to make a geometric String Ar step by step tutorial.
via
Monster Patterns
As we see on the pic above, String Art crafts are a lovely project to do with kids and teenagers. We can make, for example, a simple piece star shaped pinned on wood, previously painted. After that, they are able to decorate their own space with their lovely DIY piece.
Via
Paradise54
on Flickr.
We bring us today a free pattern to make a wonderful String Art, windmill shaped. We hope it makes you the craft easier.
via Agota on
stringart.ro