DIY
Wow, I'm very impressed about this New York String Art. A really nice piece of art to decorate your loft or studio. You can learn how to DIY watching this tutorial by
wop eh
Here you have a fantastic and easy craft to make with kids: a Mickey Mouse silhouette String Art.
via
Marilou Larson
on Pinterest
Just another way to make your own circle shaped with a star String Art. Learn how to DIY watching this tutorial. via
Cristian Lopez Martin
Makins String Art crfracts with names are a great idea to make with kids and teenagers at school or at any workshop. You can see how great can result on the picture above. Ins this case is "Becca" name and the threads are making a colour degradation. Just wonderful.
Via Zainabn on Instructables.com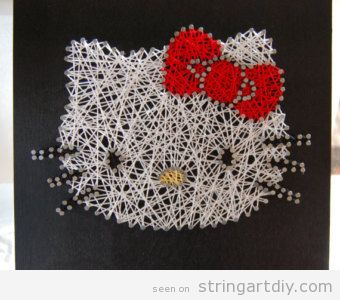 Are you or you daughter crazy about Hello Kitty stuff? You can made a Hello Kitty String Art together and have a nice time.
via
OrgaknitsbyBrielle

What a lovely String Art made with golden Strings and heart shaped <3 You can learn how to make it DIY whatching this tutorial step by step.
via
jvothuy
Here you have a geometric String Art made directly on a wall,( nailing the nails on the wall!) That's a nice craft to decorate an appartment.
via
Apartment Therapy
You can learn how to make this wonderful "OK" ombre String ART following the steps by visiting this site:
Crafts Tutplus