Tutorials and Videos
Tutorials and videos to learn how to make your own String Art Craft project.
Hi, sweeties! Friday at least! If you will have a rainy weekend at your city and you will stay at home, there is a craft that you can make with your kids. As usual, we offer you a tutorial to learn how to make String Art projects.
In this case,
¡Hoy no hay cole!
(No school today!) show us how to make a cloud and rain String Art in a very easy way.
Enjoy it, have a great weekend!
Hey! Today we want to show us how to make a cat String Art using board, threads and pins.
If you wanna see the full process, step by step and detailed, visit the following lnk:
Almu D Arte
.
She has really done a great job, drawing each step of the process. Lovely!
Usually, we show you how to make String Art projects on a board or on a wall, but today we wanna show us how to malke a String Art flower on a cardboard, and, then, turn it into a brooch, bookmark or to decorate a scrapbook, whatever you like.
We hope you enjoy this easy craft taht you can also make with kids.
Source: Karenliz Henderson
When you make a String Art, you can compose every shape with plenty of little shapes inside. For example, here you have a big heart composed by flowers, zigzag, spiral, little hearts and an "S". I really love it, it0s a great idea to decorate a children or teenager bedroom.
You can learn how to make it by watching this tutorial by
ChuladasCreativas
-.
I hope you enjoy it!
¡Hoy no hay cole!
show us in this tutorial an easy way to make a String Art projects with kids. In this case, it's a wonderful dandelion made on  green painted a board. Just beautiful!
What could we do these cold days that our kids don't have to go to school and it's a better idea stay at home? Well, make easy String Art with them is a good idea. Here you have a nice tutorial to learn how to make birdie String Art step by step.
Bird Patterns
Here you have the patterns, free download!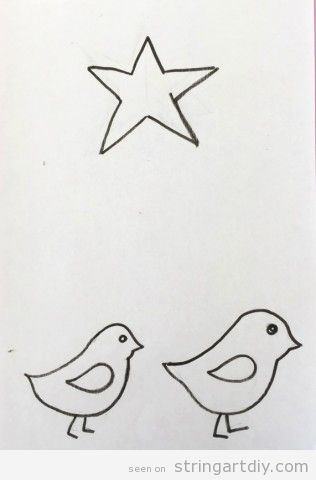 Source: ¡Hoy no hay cole!
Wow, how nice will be decorate your hall with this String Art remebering you the famous quote: "Home, sweet home". Well, you can learn how to make it step by step.
You can see the full tutorial by clicking here:
Infarrantly Creative
It's amazing when you make the a String Art on a wall, even if you do this over a black board. As you see, this guy has created a Sydney Harbour Bridge String Art and the result it's pretty impressive.
It's a nice idea to decorate a coworking space, an office or a cafe. What do you thing about it?
I really love this Darth Vader with a heart inside String Art, perfect to give to a boyfriend or girlfriend on Valentine's Day or for yout anniversary.Here you have the free pattern for download!
You can learn how to make it step by step by visiting: Frame DARTH VADER Art In String (VALENTINE'S DAY BRASIL)
Thanks to
Mandy Beyeler
for showing us in this video tutorial how to make an easy and colourful DIY eart String Art!
It's so doable and lovely! We're going to make it right now!