Heart
As you can see on the video, you just need a piece of paper, a wood or even foam block, a hammer, scissor, pencil, strings and nails. Follow the steps to make by your own this wonderful heart shaped and small string art.
via
ColourfulCreativity
on Youtube.
As you know, you can also make String Art projects on cardboard making holes and putting threads through them. Here you have a nice craft idea for Valentine's Day and it also a DIY project perfect to do with kids. Absolutely lovely!
Via
zszywka.pl
Here you have a nice craft to make with kids. It's easier if you make a String Art project on corkboard, and less dangerous, indeed. That's a nice idea to decorate a bedroom!
via
Apartment Therapy
To make this lovely String Art we only need a pencil, a ruler, a scissor, embroidery tread, a hammer, a bunch of nails, rounded and small piece of wood and a heart pattern. After that, you must follow the steps showed on the video tutorial and here you have this nice crafts. It is simple, so you can make it with kids.
via AlishaCraft on YOutube
As you see in this video, there's an easy and cheap way to make a String Art craft with kids. You should use a doble cardboard and tumbtacks instead of nails. Use simple patterns as hearts, stars or circles. You gonna love make this!
via
CitrusSlicesCrafts
As we see on the tutorial, it's very easy to make these heart shaped String Art. You have to paint or spray the wood in white, let it dry and draw a heart in paper. After that, you only have to nail around the paper heart and tie a knot around the head of the one of the nails. Then, you should keep wrapping the string around all the nails.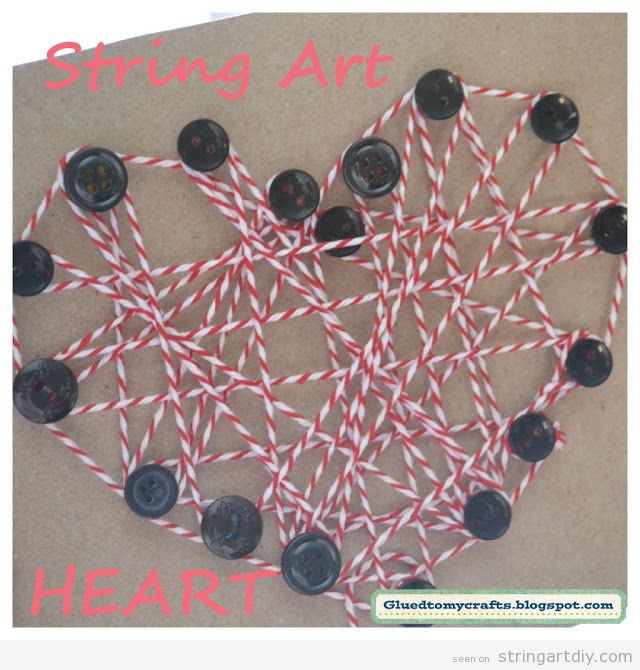 Due to the fact that nails are a little bit dangerous for kids, we propose on this String Art to replace them for buttons or to glue a button on the top and then, you can start with the strings. The heart shape is easy and a great craft to make with kids. Enjoy it!
That's an easy DIY Strin Art. You only have to cut your state or country from a map and leave heart cut in the middle. Then, you pin all the nails and, finally, you do all the string job. A bit patriotic but still lovely!
Seen on
myparisianheart.tumblr.com