Whether you are passionate about cars, or want to make a Car String Art to a car enthusiast, you have to take a look at these String Arts that we suggest you. Only with wood, color threads of  and nails, the creators, craftsmen, craftswomen and artists manage to recreate the shapes of the most mythical cars in history, some famous movie cars and also some themed cars. By the way, if you need malaga car hire, take a look at Niza Cars, the company most chosen by users in the United Kingdom for car rental in Malaga. Now, we start with the 10 Best Car String Arts! (Well… actually, there are 12, 2 bonus extra!)
MUSTANG 1968
We start with the mythical 1968 Ford Mustang String Art, one of the most appreciated cars in history. It's a good work of @lsd_stringart with a nice perspective and full of details.
VOLKSWAGEN BEETLE
Here we have two views of another of the most famous cars in history, the Volkswagen Beetle. As you can see, you can make the String Art car with lateral view, with perspective or front. It is recognizable anyway and it looks great. These works are created by Filografistan and Tie One On With Lucy.
VOLKSWAGEN VAN
If you are a hippie or a hipster, these String Art will drive you crazy, literally. Volkswagen Van is the best to travel around the country or to surf. This String Art is a great gift for surfers!
MINI COOPER
What do you think about this Mini Cooper String Art? Surely Marsh has had a happy 25th anniversary with this wonderful gift amde by @the.stringarts.
RACE CAR
The vintage race cars are beautiful and perfects for decorate from a children's room, until a mecanic workshop or a vintage coffee shop. This String Art is delicious! By UrbanHoot.
LIGHTING MCQUEEN
How much love we have for this character from the movie Cars and how much fun have we had watching it! A Lightning McQueen String Art is a perfect gift for a kid. This work is made by La Hilería.
TOW "MATE" MATER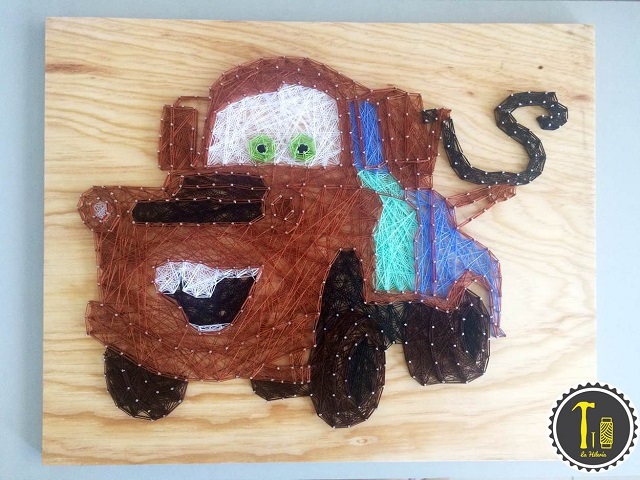 If the kid prefers Tow "Mate" Mater, also from the movie "Cars", is another charming character whose String Art looks funny and sweet. Also by La Hilería.
TOY CAR
Maybe you want to make the String Art Car with a kid and you are looking for an easy design, that's why we suggest this toy car, easy to make and perfect to decorate nursery or kids bedroom. This craft is by TheHonakerHomeMaker.
CHRISTMAS TRUCK CAR
In case you prefer a themed String Art to decorate your home at Christmas, here is a Christmas truck Stringf Art carrying a Christmas tree that is beautiful, easy to make and full of Christmas spirit.
JUST MARRIED CAR

We finish with this wonderful Just Married Car String Art and we think it is a good wedding gift. It serves to decorate the wedding salon and is a gift that they will keep all their lives. This one is made by byHANDstringart.
We hope that you have liked these amazing Car String Art and that you are encouraged to make a DIY to decorate your house or as gift to someone you really love. Which one is your favorite? What car would you like to make? We are waiting for your comments! See you soon!
Geometric String Art are the most popular designs. No wonder, because they are really beautiful, colorful and you can put it on the wall to decorate any room. However, there are many difficulty levels. Today we bring you several Easy Geometric String Art designs. There are some very easy projects, which you can even do in math class with kids, and other easy ones that you can do at home without any effort. So let's take a look to these Easy Geometric String Art ideas!
GEOMETRIC STRING ART AS MATH PROJECT WITH KIDS
There are plenty of easy Geometric String Ar designs for kids and to do in math class in order to learn geometry.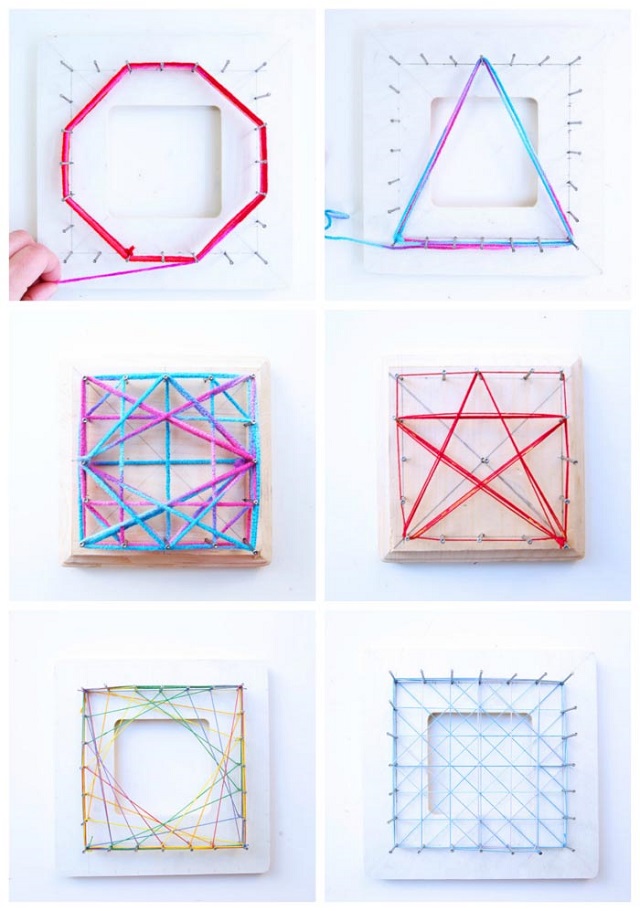 We start with these geometric designs because they are the easiest. In fact, they are recommended to do with kids between 5 and 9 years old because they have basic geometric shapes.
You can increase the level a little more and make this another more complex form, recommended for children over 10 years old because it even plays with the volume. You can see the tutorials of this mats project in babbledabbledo,
TWO PENTAGONS
You can also use geometric shapes simples even you are and adult 🙂 , such as pentagons, to make these kind of String Arts. Look at this design of two pentagons in black, a really minimalist and modern design, perfect for decorating a house, You can see the tutorial in A Crafted Passion.
TRIANGLES GEOMETRIC STRING ART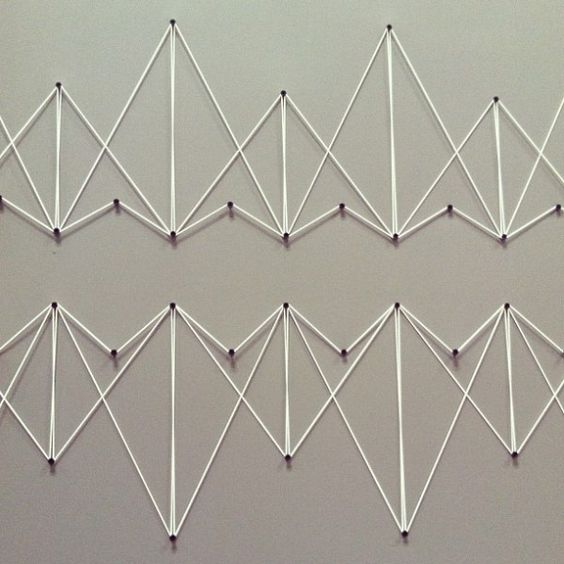 As you can see, combining triangles, a very simple geometric shape, you can make wonderful compositions like these, which look like mountains and their reflection in water. Via Studio DIY.
DIAMOND SHAPED GEOMETRIC STRING ART
It is also very easy to make a Diamond String Art, since the diamond is a pure geometric shape. You can see the tutorial step by step in: Deep Purple and Blue.
HEART GEOMETRIC STRING ART
As with the diamond, you can make a heart geometrical too, giving it shapes to make it look like it has volume or 3D effect. It is wonderful.
GEOMETRIC DEER STRING ART
There is also the possibility of making easy geometric designs that represent animals, as is the case with this deer. Very simple to do and with a nice result.
METRATRON'S CUBE
It seems an easy geometric shape to cerate a Strig Art, although it is not so much. It is based on the Metatron's cube, a shape that contains every shape that exists within the universe. WOW! We bring to you the video in order you can understand it better:
In addition, you can experiment with different colours and adds an interesting affect to this project. You can see the tutorial step by step to make these  Geometric String Art at Rapid Resizer.
We hope you liked these easy Geometric String Art designs and you are encouraged to carry out some of them. If you have done a project like this, please leave us the link in a comment because we would love to see them! Thanks for reading and for sharing!
The kitchen is a place in our home where nowadays we spend more and more time with our family. It is no longer a lonely spot in the house only reserved for the person who cooks, but it is a space of coexistence and that is why we have to pay maximum attention to all aspects, and that includes decoration.
It is also a place where a lot of waste is produced and, to properly manage this waste and in order to take care of the environment, we have to take into account the waste sorting and to have low profile garbage disposals installed for organic waste, thus reduce the carbon footprint since we are reducing CO2 emissions from heavy-duty vehicles such as garbage truck, according to Garbage Disposal Mag.
In this post we will see how to decorate the kitchen with String Art DIY to make it a more nice, creative and familiar place. A spot in our home to feel comfortable while we are cooking, eating or just hanging out with our family.
COOK, EAT, DRINK
We love these three String Art that summarize or offer an overview about what is done in a kitchen: cooking, eating and drinking. The symbols they have chosen, such as the chef hat, the cutlery or the coffee cup, are great.
THE SECRET INGREDIENT
Maybe the quote "The secret ingredient is always love" is a little bit cheesy but it's also true and cute, even more because its design is very cool and modern and the lettering it's great.
BON APPETIT!
What do we say when we sit at the table? Enjoy your meal! or Bon appetit! Maybe it's a French expression but it's very used and very nice, so it's welcome in our kitchen.
ENJOY
As we have just said, enjoy your meal! is one of the most used expressions before eating, so this String Art with cutlery and the word "Enjoy" composed with a nice lettering is a good kitchen decorating idea.
CUTLERY
Cutlery is very present in the kitchen, so making a fork, spoon or knife String Art with is a good option, even better if the String Art is created on a slice of wood, perfect for decorating a rustic kitchen.
DRINKS
Do you feel like Homer Simpson and what you like most in the kitchen is that there are cold beers? So this is your ultimate String Art where the threads and the bottle caps are combined.
"Sherry, Niles?" We are sure that this Frasier quote sounds familiar to you. The kitchen is a nice place to enjoy a good wine before dinner or while cooking, so this String Art made with corks and threads it's just excellent.
We are literaly nobody until we have a coffee in the morning in the kitchen, that's why this steaming cup of coffee String Art is so appropriate.
FOOD
Are you a big fan burger? Or maybe the homemade burger is your specialty in the kitchen? So come on and decore it with this funny String Art.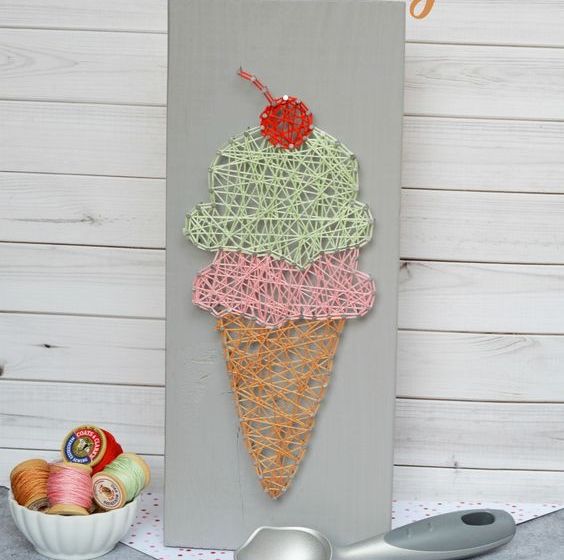 Maybe your weakness are desserts or ice creams… this String Art is perfect for decorating a vintage or shabby chic kitchen.
We hope you enjoyed these String Art and that you are fancy giving a special touch to your kitchen with these beautiful handmade projects. See you soon!
The late French origami master, Eric Joisel, created a truly unforgettable piece with 'Jazz Band'.
This one of the most mesmerizing, unusual things made of paper and is testament to the artist's ability to craft masterpieces from simple paper.
This spectacular work of art includes multiple distinct characters, each playing their own musical instrument: you'll see a drum, a violin, a flute, a clarinet, cymbals and more. It's amazing just how much movement and dynamism Joisel managed to achieve through origami: the band really do appear to be playing together in perfect harmony.
Jazz Band is just one of thousands of origami pieces Joisel produced during his career, but it's regarded as one of his most powerful creations.
Bringing Paper Alive
Joisel incorporated a variety of colours in Jazz Band, adding a stronger visual impact while helping to diversify the musicians themselves. Each of the musicians is a dwarf, clad in a long, pointed hat and a robe. The different heights, outfits and hats of each character ensures each stands out and conveys his own personality.
Like many great pieces of art before and after, Jazz Band manages to create the illusion of an entire world existing around it.
The longer you stare at the musicians playing, the more you can imagine the crowds they're playing too, the type of classic jazz notes they would produce and the energy they would display. That's a stunning achievement to make with folded paper.
Jazz Band took Joisel more than 100 hours to complete. This is no surprise, given the sheer complexity and attention to detail. Look closer at the hands, at the placement of fingers, at the characters' posture: everything within Jazz Band is remarkably lifelike.
If you didn't know Joisel had used origami to produce this piece, you simply might not imagine paper had been used.
He was never able to repeat any of these models. As a result, Jazz Band's colourful cast of characters is unique.
An Artist Like No Other
This keen eye for movement and distinguishing characteristics is prevalent throughout Eric Joisel's other origami pieces. One of his most well-known creations is the Hedgehog: just looking at this can only inspire awe at Joisel's abilities. As with Jazz Band, the Hedgehog is so intricate and so delicate you may completely forget it's crafted from paper.
Other pieces made by Joisel include 'Mask', which shows a true grasp of character and movement. Mask is almost unsettling in its elegance and seamlessness, and Gandalf. The latter is based on the iconic character from The Lord of the Rings and has much in common with his Jazz Band.
Jazz Band's dwarves have similar pointed hats, posture and clothing as Gandalf. They also appear to inhabit a Fantasy world too, hinting at a much grander work of art surrounding them.
Jazz Band is not just one of Joisel's finest achievements, but one of the most striking examples of how powerful this majestic ancient practice can be in the hands of a master. It's no stretch to call Jazz Band by Eric Joisel is as a marvel of origami, which is why it features in the most wonderful things made of paper ranking by Gigaranking — there's no doubt Jazz Band deserves its place.
Joisel passed away in 2010, leaving a fascinating body of work that will go on to inspire other artists longing to craft origami. Jazz Band serves as a pioneering masterpiece demonstrating Joisel's gift at its finest.
For those who think that the family is everything, they take care and pay attention to all the details that are at home to make cohabitation more special and meaningful, today we bring you a series of String Arts inspired by the family. the word "family" is the most important, but also how it is represented: with photos, with birds, with a tree … pay attention to these wonderful artworks. We hope you like them!
FAMILY STRING ART PATTERN
First of all, we bring you a pattern with the word "family" in a nice handwritting typography that you can download for free. If you click on the image, it will open in a new tab to a larger size. Source: Etsy.
FAMILY STRING ART
So let's start with a series of Family String Art where the word "Family" is the most relevant and is written with different fonts: more classic but with rainbow colors, more modern and minimalist in a single color or more traditional and uppercase .
Source: TheHonakerHomeMaker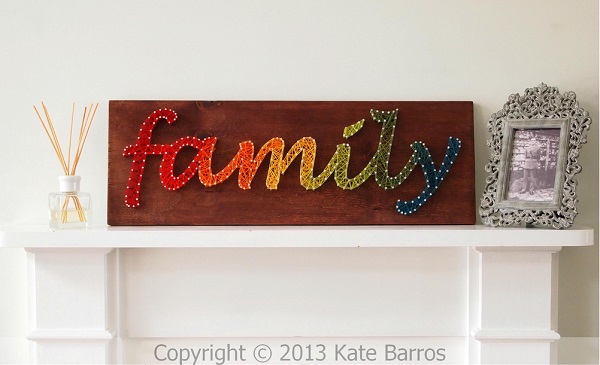 Source: Kate Barros
Source: It's Better Handmade
FAMILY AND PHOTOS STRING ART
There are many ways to customize a Family String Art. One of them is to hang strings and small clothespins and hang photos of the couple or the family on it to make it unique and special. Look at the different colors (white, mint, red…), fonts and sentences that can be added, such as "live, love and laugh" or "with life begins … and love never ends". Let's see some examples that are really nice and cute.

Source: Pinterest
Source: CustomizedByAshley
Source: LittleStringandThing
Source: StringTheNails
Source: Gabriel Clemons Design
FAMILY AND BIRDS STRING ART
Another way for represent the family is through the figure of birds on a branch, which is a beautiful metaphor of family life: they are all together on the same branch or home. We encourage you to make String Arts with colorful birds, because we think it can look very nice. Connect the line of the writing with the one of the cable or branch where the birds rest is a very original design, as you can see on the third picture.
Source: Ebay 
Source: Pinterest
FAMILY TREE STRING ART
We finish this selection with another beautiful way of representing the family: with a family tree. Pay attention that the design of the tree can be in different ways, from a realistic tree, to one that is only a silhouette and inside are the real names of the family tree or you can make the trunk with string Art and paint the leaves and letters. You choose!
Source: Pinterest
Source: TimberandThreadGB
Source: Hallmark
We sincerely hope that you have enjoyed these Family String Art and that among all these designs there is one that you really love and you want to DIY to decorate your home and to remember all the members of your family that are special and dear ones.
In case you have any questions, comments or suggestions, please leave us a comment below and we will answer as soon as possible.
Hi, guys! How are you doing? As we have already told you several times in this blog, String Art can be make on different supports or surfaces. The most common is wood, but you can also make it on a wall, on cardboard or on canvas. Today we are going to speak about make String Art DIY on canvas , since it has many advantages. First of all, it is easier and more comfortable to do, since you do not have to nail nails into wood, but into canvas fabric. In fact, if you want to, you can use very small nails or even pins or thumbtacks, as we will see in the images below. On the other hand, you can make very special String Art using personalised canvas so you can give an extra 3D sensation for the picture or to create an awesome background with the design or photo you wish. So we are going to see a few images of String Art made on canvas and you will see their particularities and differences respect to ones made on wood.
As we have said, you can customize the canvas yourself or order a personalised canvas with a photo or a design on the Internet. In this case, they have made a modern graffiti background.
In this other String Art the background is personalised with printed sentences in blue and stamps that complement the marine and travel essence of the piece.
The canvas can be the size you want and the color you want. In this piece of work they have decided to personalise the canvas with black fabric and they have made a String Art of a simple star using red thread.
Pay attention at this String Art because it is different from the rest. First, because they have chosen a printed and customized fabric for the background and, second, because the technique is different. The boat shape is made with thread or string, yes, but glued to the canvas fabric!
In this case the background is not personalised but we want to show you that it is a String Art on canvas and that thumbtacks have been used instead of nails and the result is cool.
Here you have a small and delicate dandelion String Art on canvas and the special thing about this technique is that pins are used and gives the feeling that it is an embroidery.
Here we have a String Art with the name Cecilia. We think that it would have been a good idea to personalise the canvas with a photo of the person you are going to give the String Art as a gift.
This map String Art on canvas is almost perfect, but imagine that the background has something to do with the most characteristic of the state, it would have added an extra touch.
We hope that you have enjoyed these String Art on personalised canvas and that you use this technique in your next works to make them even more personal and special. See you soon!
Summer is my favorite time of year when it comes to fruit. I love to refresh myself eating watermelon and other summer fruits, so today I decided to look for summer fru8its String Art DIy to propose to you. In this way, we can decorate a room in our hone in a fresh, colorful, fun and full of life way.
So let's take a look at some String Arts with different summer fruits like watermelon, strawberry, lemon, pineappple, cherry and peach. Let's see if you like them!
WATERMELON STRING ART
We start with this watermelon slice String Art made by Laura Honaker. I think this is the most refreshing design of all and it can look good in the kitchen, in the living room or even in a teenager bedroom. The design is simple and very colorful, so we recommend it as a summer String Art.
STRAWBERRY STRING ART
Another of my favorite fruits of spring and summer are strawberries. Its vivid color makes it very attractive. Look at this String Art by TheHonakerHomeMaker because it's great, simple and a good choice to decorate a fruit store, but also to decorate a kitchen or a girl bedroom.
PINEAPPLE STRING ART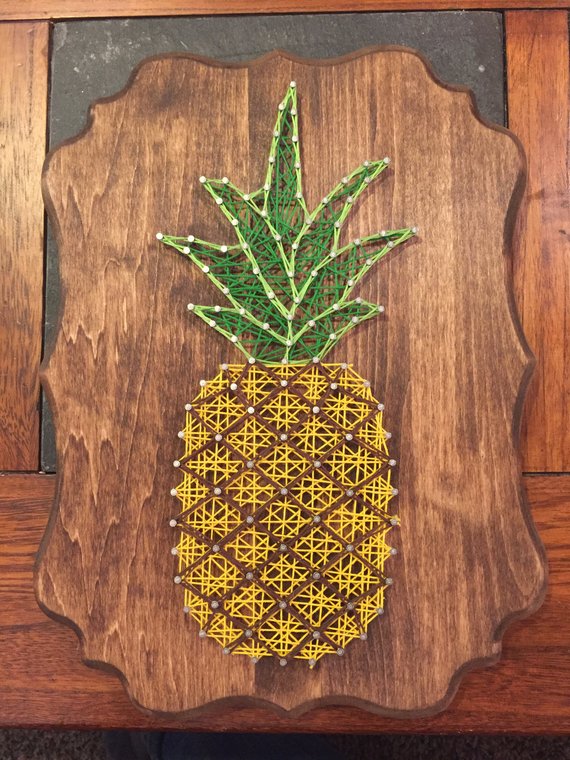 The pineapples are so fun! Its shape is very original and its color is vibrant. We love this very worked design, full of details, it almost looks like a cross stitch. It is a design by String Kits.
LEMON STRING ART
Lemons! I could not live without lemonade in summer! It is another of the most summery and refreshing fruits. In addition, the yellow color reminds of the summer sun and it is a good option to make a design in this season of the year. You can buy it in TheHonakerHomeMaker Etsy Shop or DIY.
CHERRY STRING ART
The two cherries are a charming and beautiful design, i feel I can say almost a "coquettish" design. As we can see, the shape is very simple, but the result looks great. You can learn how to make it at Klutz Strign Art book.
PEACH STRING ART
What about peaches? its flavour is so special and summer is its time. Look at this McEntireRustics peach String Art on a Georgia state map. You can use a light orange thread or a more vivid one.
I hope that you have enjoyed these summer fruits String Arts and now you are fancy doing one of these designs. Have a good summer and see you soon!
Hi, guys! How are your String Arts doing? As you maybe already know, in our previous post Marvelous Louisiana Themed String Arts we saw Louisiana state String Art, but today we are fancy showing you more String Art States and we have chosen 10 states from the United States of America. We are really sorry if we are not showing the state where you live in, maybe in the next posts, ask us for more! So let's see some of them. Enjoy it!
TEXAS STRING ART
We start with the Texas String Art. As you can see, it looks great with white threads on a dark wood background and a heart shape in the middle or poiting at your city or home town. You can buy it in Etsy or DIY because it's very easy.
SOUTH CAROLINA STRING ART
Here you have a South Carolina String Art made with threads of a deep blue color on light wood. It also has a blank with the shape of a heart in the middle. You can learn how to do it step by step at Snap Guide.
WISCONSIN STRING ART
As you can see in this image, this Wisconsin map String Art created with yellow threads on a deep green wooden background is also very creative and beautiful. You can see the steps to learn how to make this Winsconsing String Art at Crafts by Amanda.
MASSACHUSETTS STRING ART
The shape of the state of Massachusets is a bit strange but it also looks good with white threads on dark wood background and a heart where Boston is located. You can do it yourself or but it at Etsy shop.
CALIFORNIA STRING ART
What we like the most about this String Art with the shape of California's map is the blue oval wood background that reminds the entire ocean that has this state in front of its coasts. You can learn how to make this California String Art at Snapguide step by step.
FLORIDA STRING ART

Florida String Art it's very wonderful. Even more if you design it using yellow or orange threads because reminds the colour of the sun, this golden piece that all of we are searchin for at Florida. We don't know the source. If you do, please, write us.
NEW YORK STRING ART
Here we have a New York State String Art that is really lovely and elegant. Firstly, because it is made using beige threads and, secondly, because the wood is painted with a stilish retro green. Sorry, we haven't found th source, tell us if you know it.
PENNSYLVANIA STRING ART
You can add some lettering to the piece, as we see in this String Art where the word "Home" has been added and "Pittsburgh" is marked in a special way. You can make it yourself or buy it at Etsy.
VIRGINIA STRING ART

Virginia state shape or outline it's funny because it seems a mountain. This is a sample of how well it can be to use orange threads on a dark wood background. Like all the previous ones, it also has a heart in the middle pointing out a special city or town for the person who makes the craft. You can do it yourself or buy it in Etsy.
WASHINGTON STRING ART
We finish with this wonderful Washington Sting Art. The special thing on this piece is that the wooden background has a drawing of mountains and a moose, the typical landscape of this state. We do not know the source, we're sorry.
We hope you enjoyed these String Art States and that you are fancy making one with the map of your state, city or your town. Soon we will see another post with two state maps designs. See you, guys!
Hi, guys! How are you? In our previuos posts, Mandala String Art, step by step, we have already seen how to make a Mandala String Art on a video tutorial. Today we are going to show us more impressive mandala String Art designs that can inspire you to create new shapes and crafts.
First of all, we want to talk a little about the mandalas. In case you do not know, the mandalas are spiritual symbolic representations of the macrocosm and the microcosm, used in Buddhism and Hinduism. They are usually circular shapes that have a center from which perfect geometric shapes emerge.
These pieces can be great to decorate a teashop, a religious articles store or a meditation room, due to the fact that mandalas help to relax and meditate, as we can see in the previous image. Then, we will see some stunning designs because of their shapes and the color of their threads.
We start with this wonderful and complex mandala in orange and yellow tones. We can appreciate many geometric shapes within the circle. You can buy it on Etsy.
This other mandala String Art has no circular shape, although it seems. Actually it is a geometric shape with 22 points or vertexes. We really love the mix of colours used.
Notice that a mandala String Art can be ever better if we make it on a round wooden base. This is made by Crafty Starling with cherry wood and is amazing.
For this, byHANDstringart has used a thicker type of yarn or thread. This is mandala String Art easier to make, their shapes and figures are simpler, but still looks great.
We really like this gradient color from blue to green for a String Arty mandala. Absolutely gorgeous, made by the hand of RaesCraftyCreations.
You can also make Mandala String Art with some blank spaces inside, like this design with rainbow colours threads created by @entrehilosuy.
This mandala String Art, also forming a 22 vertex polygon is great because of the striking colors he has used. The shape departs from the central yellow point and comes out with several radius and a gradient is made at the same time. This work is by Mandalas Olho de Deus.
This mandala String Art is special because it is made with blue threads that glow in the dark. In addition, its figures are wonderful and seems like a lotus. A work made by MagicLineStore.
Form concentric circles in the middle that look like an eye is a good start for a mandala String Art, as we can see in this piece made by ESTREDAYENU.
This design is similar to the previous one, follows the idea of concentric circles and is something appreciated in a mandala.
The swirl is not a very common figure in the mandalas, but, nevertheless, it has a central point and is circular, so it can enter this category.
We hope you have enjoyed these mandala String Art designs and we hope that now you are feeling like making a DIY mandala String Art like one of them to decorate your room and that it helps you to concentrate and meditate.
Hi, guys! How are you doing? Spring is coming, the sun is coming, so… what if we make some sunglasses String Art to decorate our home or store to add this new sunny taste to the atmosphere? If the lenses of your sunglasses are broken, you can buy a new pair of replacement lenses in this website: Sunglasses Restorer or you can use the frame (or the broken lenses) to make the following String Art workpieces. You can use the frame as template for a small piece or add them to the composition to create a new volume effect.
What is clear is that to create this String Art, the crafter has used a real sunglasses frame to create the negative effect where the sunglasses shape are blank (well, we can see the dark wooden base behind) and all around them is filled with white threads using the String Art technique. This design is very nice, simple and elegant.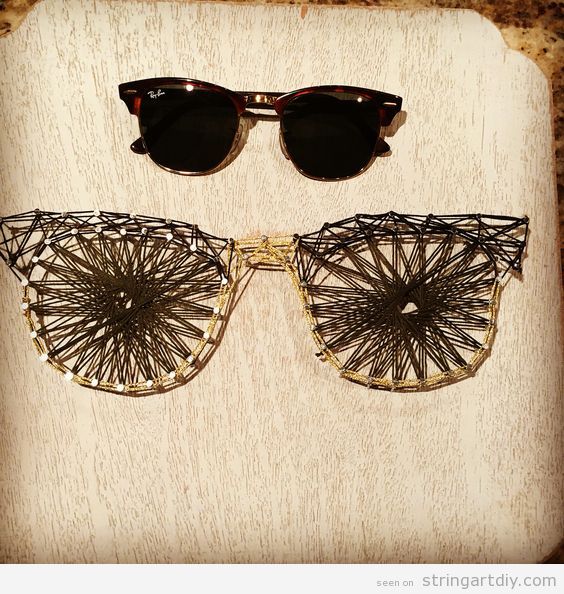 In case you love your Rayban sunglasses so so much, you can add or glue them to the String Art copy to create a volume effect or just use the sunglasses as a model to copy. Notice that the crafter has used a special wood base that add a traditional and fancy look to the work, following the Rayban style.
Let's move to the color that make us feel that the sun is above us and making us feel alive and happy. Evidently, the yellow! We really love this yellow sunglasses String Art made by The Honaker Home maker. This design is lovely for a room, a coffe shop or a clothes and accessories store decorating, don't you think so? Pay also attention to the wooden base painted in gray (but still letting the woodgrain show through), because is the color that fits the most with the yellow.
If we are looking for funny sunglasses String Art, what is better than this sunglasses emoji String Art? You will need a round wood base to make it, that you can cut or you can buy already cut, paint it in yellow and, then, make the emoji shape. Don't forget the smile and, obviously, the black sunglasses.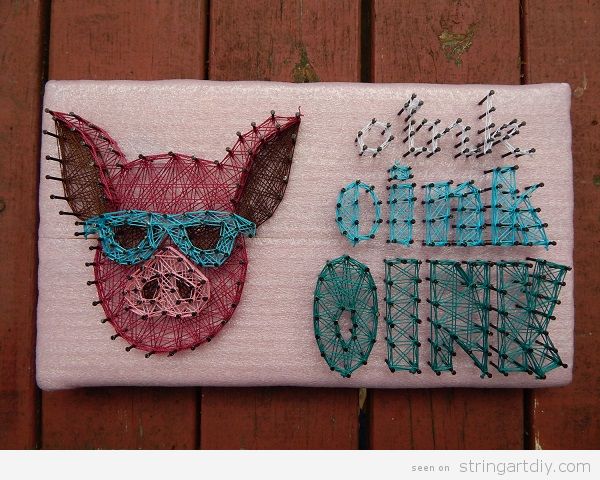 Let us allow our minds to be free and creative. If we are able to reach this point, we can produce String Art pieces as original as this one. Once you have the idea of the sunglasses String Art you can try to put them over other figures, like a person or an animal. For example, put the sunglasses on a pig face. He seems so cute, good-looking, a bit cocky but happy! That's just an idea. We suggest you to choose a cat or a dog if you don't like pigs, even your pet, and put on them some cool sunglasses.
As always, we hope that you have enjoyed these String Art ideas and we encourage you to go to the DIY superstore, get some wood bases, nails and threads and make some of these pieces to decorate your place. Thank you for reading and see you soon!