Natural stone mosaic
We all want our house to look its best and, whenever possible, to be decorated with our own crafts, such as String Art DIY. Today we are going to put the focus on the walls where we hang our String Art projects.
There is no doubt that the walls with natural stone mosaic tiles is one of the best options that exist in interior designs. You can take a look at this link to the natural stone mosaic proposals made to us by the people of L'Antic Colonial.
String Art projects are very related to geometric figures, in fact, they are pure geometry, that's why we think it's a good idea to hang our works on walls with mosaic tiles that form geometric figures, like the ones we are going to see next.
CHESS STRING ART ON CHESS MOSAIC TILES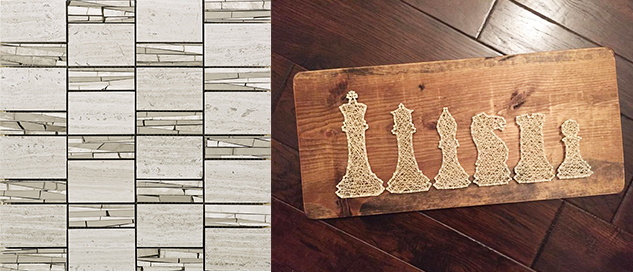 For example, if we like chess, as well as its geometric figures and pieces, such as the knight, bishop, pawn, rook or queen or king , a very good option is to hang it on a wall with a natural stone mosaic that is inspired by the chess board in two different shades, like the one we see in the picture above.
BEES STRING ART ON HIVE WALL
We imagine that we have to decorate the walls of a kitchen and how it can look good. We love the option of a mosaic of natural stone tiles with hexagons that, together, form a hive. And what better than putting a String Art of a bee on it? Also, the honey is related to cooking and food storage, so it could be a good idea and will look great.
SACRED HEXAGON ON HEXAGONAL TILES
It is true that for other spaces in our home, such as the living room, the bees may not look good, so another great option is to place a nice and well worked sacred spiral hexagon String Art on a hexagonal tile mosaic wall. In fact, this spiral hexagon is part of the sacred geometry of mandalas, so everything together can inspire concentration and inner peace to our home.
CHEVRON STRING ART ON CHEVRON TILES
What about the chevron? Without a doubt, it is a modern and minimalist geometric pattern that can look good in rooms decorated in a contemporary style. It could be original to put a chevron String Art on a chevron wall tiles. ¡But be careful! It would be better that the String Art chevron lines are oriented like the lines on the wall, otherwise it will send a contradictory message a it could result bit weird to our brain.
TRIANGLE STRING ART ON A TRIANGLES AND TRAPEZOIDS TILES
Our last proposal is about triangles, so we have thought about triangles or impossible triangle String Art for mosaic walls like the one in the image above, made up of trapezoid and triangles tiles. It's incredible!
We sincerely hope that you liked our idea of combining the geometric figures of the String Art with that of the tile mosaics on the walls. What do you think of the idea? Will you put it to the test? Tell us and see you soon.