Watermelon
Yeah! Summer is comming! Do you already know where you're going to spend your holidays this year? If not, you can always take a look at travel blog and discover new destinations to which we are sure you will love to go on holiday. Since we are in summer mod, we are looking forward to start making Summer Strings Arts, so we have looked for String Arts ideas that represent the summer colours, the summer vibes, the summer activities and and the most typical foods of this time of the year. Let's take a look!
1. WATERMELON HELLO SUMMER
by MushBugCrafts
Let's welcome the summer by eating a watermelon and saying: Hello Summer! It is a String Art very fresh, colorful and with a good lettering,
2. WAVES
by CoastalCreationsNJ
If something we like about this summer String Art is that the support is made of sea wood. Of course, the waves represent very well the summer mod and the surfing mood. Notice also the white to blue gradient of the threads, because it's great.
3. DESERT ISLAND
by TheHoneyedHeifer
Anyoe's drem is to spend a few days on a deserted island with palm trees and ber able to enjoy the sun, the sea and peace. This String Art express and capture this feeling perfectly.
4. FLIP FLOPS, SAND AND A STARFISH
by Ahmed Sherif
What about the pleasant sensation of taking off your shoes, putting on your flip-flops and feeling the sand on your feet? This String Art gives us the feeling of walking on the beach and we love it.
5. POPSICLE
by chalkandglittergirl
mouthwatering is is what we experience when we see this popsicle and how good it feels to eat one when it's hot outside. This String Art gives very well the freshness of ice and the taste of summer.
6. MERMAID TALE
by PetalsandPetrichor
In our imagination it's also connected the sea with mermaids, so we like this ver stimulating String Art, tale mermaid shaped, with the quote: "mMrmaid kisses and starfish wishes" written in a very good lettering.
7. TURTLE
by JerseyDesignsUS
We all love to see baby turtles on the beach or watch them swim when we are doing snorkle. It's a magical moment. That's why we also think it's a good idea to make a turtle String Art using beautiful blue and green sea colors.
8. THREE SEAHORSES
by SoCraftyInBrixham
Like turtles, seahorses are animals that represent the summer spirit very well. We love the idea of making a String Art with three seahorses, one of each color, on sea wood base.
9. BICYCLE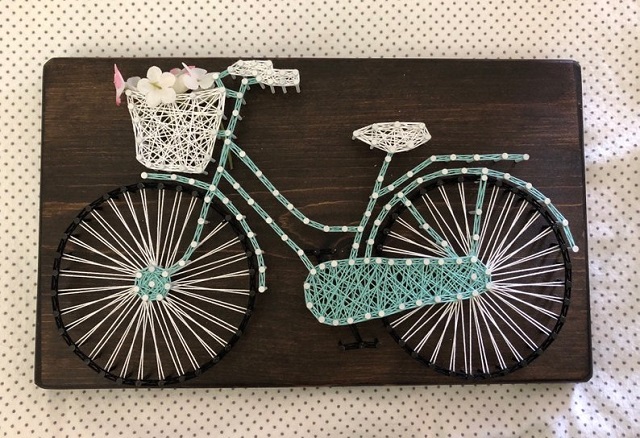 by ABUnderwoodCo2
Imagine for a moment go across your village, the countryside or an island on a bicycle… you can't ask more of summer: feel the freedom and the wind in your face… Bicycles are for summer and this StringArt proves it,
10. SUNSET
by BrittasDreamDesigns
We finish our selection with this gorgeous sunset String Art of created with warm colors threads, such as yellow, coral, orange and pink, forming a precious gradient that fits perfectly with the topic. We can feel the calmness of this sunset!
Did you like these summer String Art ideas? Has someone conquered you and do you want to make it right now? So… Go for it and see you soon!
Summer is my favorite time of year when it comes to fruit. I love to refresh myself eating watermelon and other summer fruits, so today I decided to look for summer fru8its String Art DIy to propose to you. In this way, we can decorate a room in our hone in a fresh, colorful, fun and full of life way.
So let's take a look at some String Arts with different summer fruits like watermelon, strawberry, lemon, pineappple, cherry and peach. Let's see if you like them!
WATERMELON STRING ART
We start with this watermelon slice String Art made by Laura Honaker. I think this is the most refreshing design of all and it can look good in the kitchen, in the living room or even in a teenager bedroom. The design is simple and very colorful, so we recommend it as a summer String Art.
STRAWBERRY STRING ART
Another of my favorite fruits of spring and summer are strawberries. Its vivid color makes it very attractive. Look at this String Art by TheHonakerHomeMaker because it's great, simple and a good choice to decorate a fruit store, but also to decorate a kitchen or a girl bedroom.
PINEAPPLE STRING ART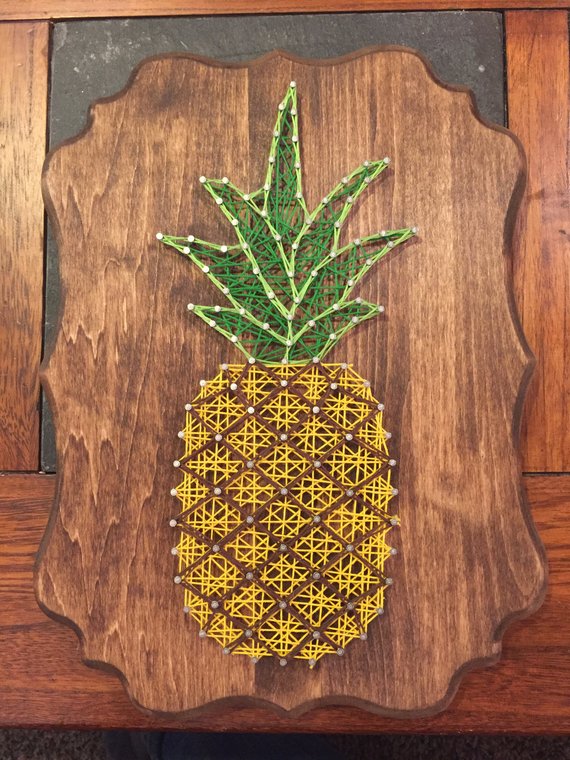 The pineapples are so fun! Its shape is very original and its color is vibrant. We love this very worked design, full of details, it almost looks like a cross stitch. It is a design by String Kits.
LEMON STRING ART
Lemons! I could not live without lemonade in summer! It is another of the most summery and refreshing fruits. In addition, the yellow color reminds of the summer sun and it is a good option to make a design in this season of the year. You can buy it in TheHonakerHomeMaker Etsy Shop or DIY.
CHERRY STRING ART
The two cherries are a charming and beautiful design, i feel I can say almost a "coquettish" design. As we can see, the shape is very simple, but the result looks great. You can learn how to make it at Klutz Strign Art book.
PEACH STRING ART
What about peaches? its flavour is so special and summer is its time. Look at this McEntireRustics peach String Art on a Georgia state map. You can use a light orange thread or a more vivid one.
I hope that you have enjoyed these summer fruits String Arts and now you are fancy doing one of these designs. Have a good summer and see you soon!