Fruits
Summer is my favorite time of year when it comes to fruit. I love to refresh myself eating watermelon and other summer fruits, so today I decided to look for summer fru8its String Art DIy to propose to you. In this way, we can decorate a room in our hone in a fresh, colorful, fun and full of life way.
So let's take a look at some String Arts with different summer fruits like watermelon, strawberry, lemon, pineappple, cherry and peach. Let's see if you like them!
WATERMELON STRING ART
We start with this watermelon slice String Art made by Laura Honaker. I think this is the most refreshing design of all and it can look good in the kitchen, in the living room or even in a teenager bedroom. The design is simple and very colorful, so we recommend it as a summer String Art.
STRAWBERRY STRING ART
Another of my favorite fruits of spring and summer are strawberries. Its vivid color makes it very attractive. Look at this String Art by TheHonakerHomeMaker because it's great, simple and a good choice to decorate a fruit store, but also to decorate a kitchen or a girl bedroom.
PINEAPPLE STRING ART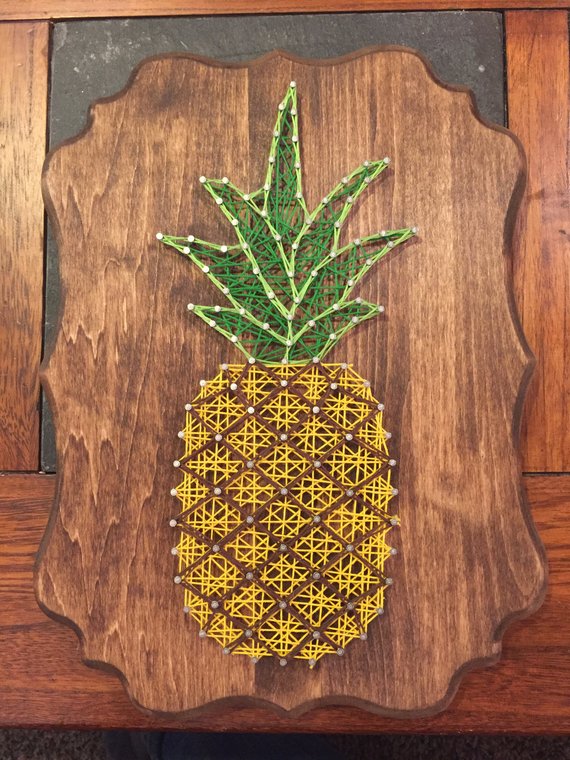 The pineapples are so fun! Its shape is very original and its color is vibrant. We love this very worked design, full of details, it almost looks like a cross stitch. It is a design by String Kits.
LEMON STRING ART
Lemons! I could not live without lemonade in summer! It is another of the most summery and refreshing fruits. In addition, the yellow color reminds of the summer sun and it is a good option to make a design in this season of the year. You can buy it in TheHonakerHomeMaker Etsy Shop or DIY.
CHERRY STRING ART
The two cherries are a charming and beautiful design, i feel I can say almost a "coquettish" design. As we can see, the shape is very simple, but the result looks great. You can learn how to make it at Klutz Strign Art book.
PEACH STRING ART
What about peaches? its flavour is so special and summer is its time. Look at this McEntireRustics peach String Art on a Georgia state map. You can use a light orange thread or a more vivid one.
I hope that you have enjoyed these summer fruits String Arts and now you are fancy doing one of these designs. Have a good summer and see you soon!