Waves
Yeah! Summer is comming! Do you already know where you're going to spend your holidays this year? If not, you can always take a look at travel blog and discover new destinations to which we are sure you will love to go on holiday. Since we are in summer mod, we are looking forward to start making Summer Strings Arts, so we have looked for String Arts ideas that represent the summer colours, the summer vibes, the summer activities and and the most typical foods of this time of the year. Let's take a look!
1. WATERMELON HELLO SUMMER
by MushBugCrafts
Let's welcome the summer by eating a watermelon and saying: Hello Summer! It is a String Art very fresh, colorful and with a good lettering,
2. WAVES
by CoastalCreationsNJ
If something we like about this summer String Art is that the support is made of sea wood. Of course, the waves represent very well the summer mod and the surfing mood. Notice also the white to blue gradient of the threads, because it's great.
3. DESERT ISLAND
by TheHoneyedHeifer
Anyoe's drem is to spend a few days on a deserted island with palm trees and ber able to enjoy the sun, the sea and peace. This String Art express and capture this feeling perfectly.
4. FLIP FLOPS, SAND AND A STARFISH
by Ahmed Sherif
What about the pleasant sensation of taking off your shoes, putting on your flip-flops and feeling the sand on your feet? This String Art gives us the feeling of walking on the beach and we love it.
5. POPSICLE
by chalkandglittergirl
mouthwatering is is what we experience when we see this popsicle and how good it feels to eat one when it's hot outside. This String Art gives very well the freshness of ice and the taste of summer.
6. MERMAID TALE
by PetalsandPetrichor
In our imagination it's also connected the sea with mermaids, so we like this ver stimulating String Art, tale mermaid shaped, with the quote: "mMrmaid kisses and starfish wishes" written in a very good lettering.
7. TURTLE
by JerseyDesignsUS
We all love to see baby turtles on the beach or watch them swim when we are doing snorkle. It's a magical moment. That's why we also think it's a good idea to make a turtle String Art using beautiful blue and green sea colors.
8. THREE SEAHORSES
by SoCraftyInBrixham
Like turtles, seahorses are animals that represent the summer spirit very well. We love the idea of making a String Art with three seahorses, one of each color, on sea wood base.
9. BICYCLE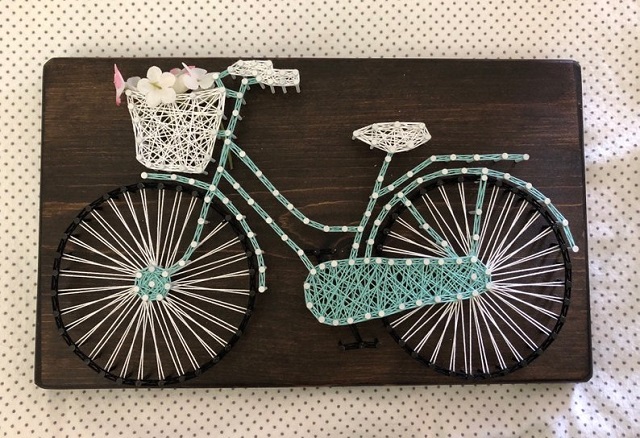 by ABUnderwoodCo2
Imagine for a moment go across your village, the countryside or an island on a bicycle… you can't ask more of summer: feel the freedom and the wind in your face… Bicycles are for summer and this StringArt proves it,
10. SUNSET
by BrittasDreamDesigns
We finish our selection with this gorgeous sunset String Art of created with warm colors threads, such as yellow, coral, orange and pink, forming a precious gradient that fits perfectly with the topic. We can feel the calmness of this sunset!
Did you like these summer String Art ideas? Has someone conquered you and do you want to make it right now? So… Go for it and see you soon!
There are many ways to decorate a beach apartment in Mediterranean areas. Without a doubt, in these apartments a good idea is to place on the walls String Art Coastal Style or Nautical Style. If you are lucky enough to own an apartment or a house in that part of the world, take a look at the 10 Coastal String Art ideas cthat we will show you below.
1. WAVES STRING ART
There is nothing better than the rumor of the waves under the sun, so this String Art is great for decorating an apartment or a house on the beach. Design by Julie's Custom String Design.
2. LIGHTHOUSE STRING ART
The lighthouses, besides being precious constructions, are a metaphor for that which gives us light and guides us. Therefore, a lighthouse String Art is also perfect for this kind of apartments.
3. SURFER VAN STRING ART
We love the surfing ambience. If you do too, you'll love this Surfer Van String Art to decorate your home, wich design includes a surfboard and a painted quote that says: "I'm moving to the beach".
4. WHEELBOAT STRING ART
As the lighthouse, the wheelboat or rudder is also a metaphor. In addition to its beautiful design, it means that it guides us either to the adventures of the sea or to the calm of the land. You choose, but the String Art is so lovely!
5. ANCHOR STRING ART
Here we have another perfect String Art to decorate a beach apartment or a house with nautical style decoration. As you can see, it is an anchor in navy blue threads with a marine rope around it that gives it a special touch to this beautiful design.
6. WIND ROSE STRING ART
The wind rose or the compass, like the lighthouse, the rudder or the anchor, has a lot of meaning for sailors, as it is what guides them to get the perfect trip and to reach the success. This  String Art design with the rose of the winds in white threads and the cardinal points painted is ideal for apartments on the beach.
7. SEAHORSE STRING ART
We love seahorses so much! They are very nice animals with an original shape. Notice that this String Art has a base of seashells and the threads around them make a net. Really different and fun.
8. OCTOPUS STRING ART
What about octopus? They are also very special animals, wild, intelligent, smart and with a very curious shape, which makes them perfect for a String Art. Don't you think? Pay attention that the shape of the octopus is surrounded by sea rope. To improve it, we would put white or blue threads inside.
9. FISH STRING ART
There is no sea without fish, that's why this Sting Art fish is also a good option to decorate an apartment on the beach. Just like the octopus, instead of threads, sea ropes are used. The body of the fish is painted in of gradient blues. So nice!
10. SHELL AND LETTERS
We finish with this project where the most important thing is the lettering that says "The beach is my happy place". To decorate it, there are two String Art, one of a shell and another of a starfish. Modern and adorable.
We hope you liked these Coastal String Art and Nautical String Art Ideas and we encourage you to decorate your propierty on the beach with one of these artworks.  What do you think about them? Leave us a comment! See you soon!