If you like famous buildings and even dream of one day studying an Architecture Master in Europe or somewhere else in the world, you can start by constructing a building with your own hands, but using wood, nails and threads.
Today we thought it would be a good idea to show you some famous buildings around the world, starting with the best known in Europe, such as Big Ben or the Eiffel Tower, continuing with other very popular buildings in the United States, such as the Empire State Building in New York or the Space Needle in Seattle, but also taking a look at other countries further away, such as India, with incredible buildings like the Taj Mahal.
Let's take a look, then, at some of these designs that we are sure you will fall in love with.
Big Ben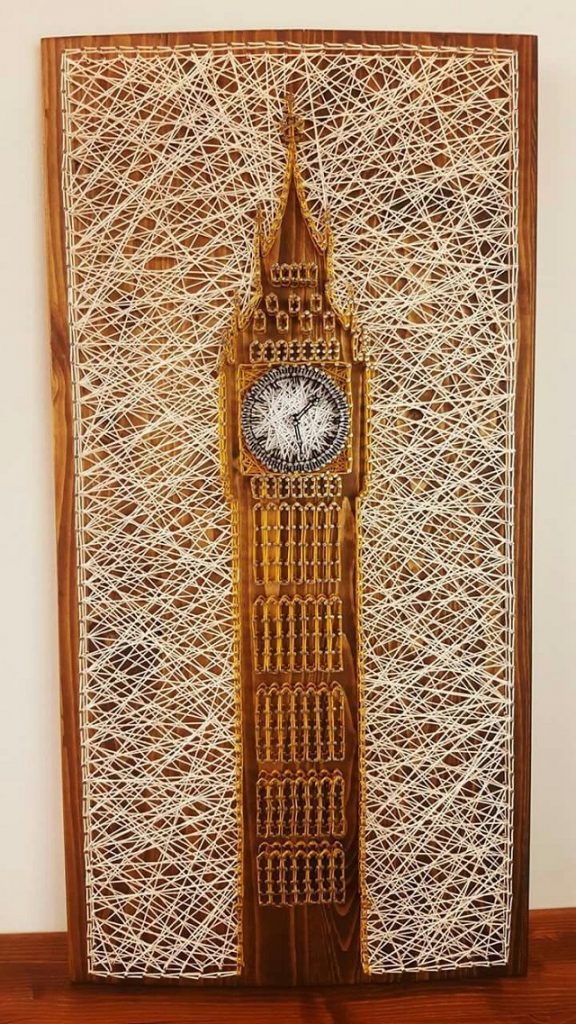 We start in Europe, specifically in London, with the famous Big Ben. As you may know, it is the north tower of the British Parliament and its name actually refers to the bell inside. It is also very popular for its four-faced clock. So this String Art shows one face of the tower with its clock and has been made with gold threads, appealing to the colour of Big Ben. The background, made with white threads, makes the figure stand out even more.
Tour Eiffel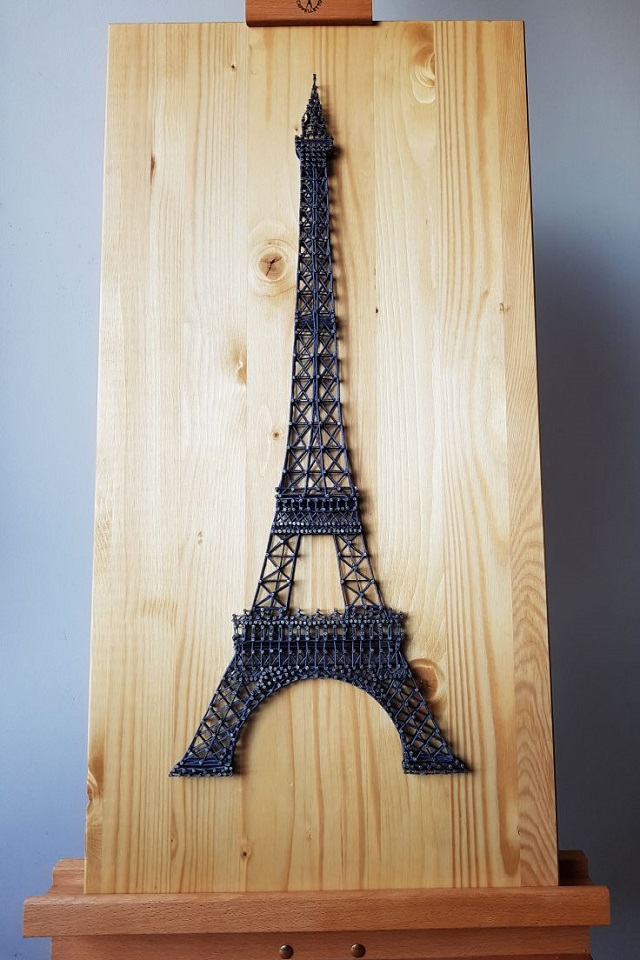 We continue with the Eiffel Tower, perhaps France's best known building, which is actually not a building at all, but an iron structure built for the Paris World's Fair in 1889 as an incredible monument.
This String Art perfectly recreates the structure of the Eiffel Tower and the colour of the thread is very similar to that of the Eiffel Tower iron.
Empire State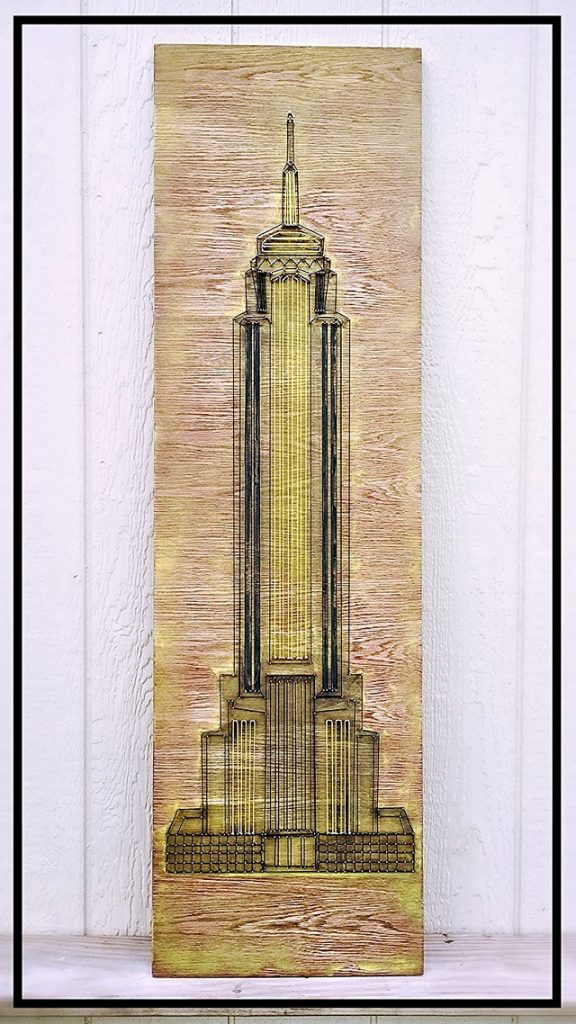 We jump the "pond" and go to the United States, whose most emblematic building is the Empire State Building in New York, a skyscraper that was the tallest in New York for almost half a century. What we arre most in love with, besides its height, is its Art Deco style. This String Art that we bring you beautifully represents the Empire State Building, with its gold and black colours, as well as its silhouette. It is marvellous.
Space Needle
As absolute "Frasier" fans, we couldn't leave out Seattle and its space needle. As in the case of the Eiffel Tower, it is not a building in itself, but rather a tower built for a World's Fair in 1962 and has been used as a radio station, a restaurant and a lookout point. This String Art shows its stylised white silhouette against a black background that makes it stand out.
Taj Mahal
Not everything in this world is about buildings in the West. In the East there are also great examples of architecture of all kinds, such as Buddhist temples and mosques. We've chosen the Taj Mahal, perhaps India's most iconic monument, which is actually a funerary monument built by Emperor Shah Jahan in honour of his favourite wife, Mumtaz Mahal. In this beautiful String Art we can admire the off-white colour of the thread, as well as the background with the colours of the Indian flag.
This is our selection of some of the world's most famous buildings and their representation in threads. We sincerely hope that you have enjoyed it and that it has inspired you to make a String Art with your favourite building. Go for it!
When we aim to make a String Art, the sources of inspiration are many. One of them is the works of fiction we love, whether it is a book, a film or a TV show, even a videogame.
Today we want to show you several works of String Art inspired by novels. They are perfect to decorate our home if we are big readers , as well as being a good idea to give to someone who loves a writer or a certain books series. Here we go!
The Song of Fire and Ice
"The Song of Fire and Ice" is a great example of how a novel can be full of inspiration when it comes to creating String Art pieces. So, for example, we can choose the coat of arms of our favourite family, as in this case, which is the Stark coat of arms, and put leaves from the books in the background.
Wings of Fire
Have you heard of wings of fire books? If you have young children, you probably have. It is a series of fantasy novels that focus on the life and adventures of young dragons. If your children are fans of this series, you can make String Arts of different dragons that appear on the covers of the books. What do you think of the idea to decorate their rooms?
Wimpy Kid
And do you know the Wimpy Kid diaries? I'm sure I do, I used to give them to my nephew when he was little, so I keep a great memory of them. Reading the Wimpy Kid series is a good way for our little ones to become fond of reading, as they are funny, amusing and entertaining, as the same misfortunes happen to him as to any teenager.
It is very easy to make String Arts of Wimpy Kid, since the figures of their characters are very simple. All you have to do is print a template like the one we bring you and trace the threads on the silhouette and fill in some element like the backpack or the trousers.
The Hobbit and The Lord of the Rings
Tolkien has touched the lives of many of us, especially novels like The Hobbit and The Lords of the Rings! There are so many String Arts that you can do inspired by these novels that it is difficult to choose one, so we have chosen two: one with the Tree of Gondor and another with all the characters in one of the journeys.
Treasure Island
Treasure Island by Robert Louis Stevenson is one of the best known novels in the world and with more fans. As you surely know, it tells the adventures of buccaneers and buried treasures, where the presence of sailing ships, pirates, treasure maps and parrots is very big, so you can choose one of these elements to make a nice String Art. Sailing ships are very common in the String Arts tradition, so it is a good choice.
We hope that you liked the idea of making a String Art based on a novel and that you take into account our proposals. Reading is one of life's great pleasures, as well as crafts: putting them together can be a unique experience.
In this blog we are very interested in decoration, not only with pieces of String Art, but in general. We especially like the classic style that survives the passing of time, since fashions change quickly and sometimes it is convenient to bet on tradition and classicism.
That is why today we are going to talk about classic furniture for hotels, but you can also see these pieces as furniture and decorations for your homes. It will give you the feeling that you are walking to an elegant, distinguished, classic and, at the same time, timeless space, where you can feel like a king or a queen. Let's take a look at these pieces of furniture that have made us fall in love.
A Console and a Mirror in the Hall
First impressions always count, so we start with the entrance hall, whether it is a hotel or a private residence. Entering a space and seeing a console and a mirror like these, is a statement of intent: you are in a special and luxurious place. Its organics shapes are inspired by gardens… It's like a fairy dream!
A Glance Upwards: Ceiling Lights
The guest will be attracted to the light, especially if it comes from above and is intense. When he looks up and sees a ceiling light like this, he will be amazed. This model, in particular, the St. Petersburg family, is inspired by the real era of Russia and its asfour beads and Swarovski Strasss colors or transparent places at different heights provide a unique feel and exclusive design to the space.
A Special Moment in the Bedroom: The Chambermaid Royal
There are times when you feel like having a drink and there is nothing better than the waiter bringing them to you in a drinks trolley like this one. It's seeing it and giving you the feeling that you're in a historical film. Very, very elegant!
A Magical and Royal Fireplace
We agree that enjoying a romantic moment next to a fireplace is priceless… Imagine that this fireplace is equipped with all these accessories and this fireplace protector that gives a unmistakable elegance to the room and created a warm and friendly atmosphere.., dreamlike!
What about those bells?
When the bells that mark the hours ring, guests will look at where that sound comes from and will see this exclusive clock. Without a doubt, it will enrich the space and the experience of your clients or guests.
A private moment in the bathroom
All the spaces in a private residence or a hotel have to be cared for and decorated thoughtfully. That's why you shouldn't forget the bathroom and choose classic and beautiful accessories such as the soapbox, the towel rack, the towel hanger …
Thus, the bathroom will be decorated with elegance and delicacy.
Candelabras everywhere
A candelabra with candles burning is never out of place, it a very versatile accesory that can fill the rooms like no other item. Warmth, magic, tales, romance… Everything can happen by the light of these candelabra candles.
This is our tour of a hotel or residence with classic furniture that survives the fashions and the test of time. The guests will never forget the atmosphere created by this furniture and will always remember it with love.
In these times, with so much competition and so many hyper-specialized jobs, it is not enough to study a degree, but it is increasingly important to study a postgraduate or master's degree as well. Masters allow you to specialize in a specific area and it will be easier for you to find a job, especially if that master's degree can provide you with an internship in a company in the sector.
Today we are going to talk about studying a Architecture Master in Europe and the many advantages it offers and the wide range of possibilities it will open up for you. We will answer the most important questions about this program, so pay attention!
Which master degree is worth studying?
One masterthat has caught our attention has been the MCH: Master in City & Housing. It's a postgraduate international professional program of architecture design in cities, housing and energy studies.
Where in Europe?
This master degree is presented by Universidad Politécnica of Madrid (UPM) and Swiss Federal Institute of Technology (ETH) and tooks place in ETSA Madrid. This postgraduate course has been running for 11 years and is the best valued by professionals in the sector.
When I have to apply?
Next edition of MCH: Master in City & Housing will start in January 2021, so it's time to apply because it's already opened, although you have until December 31th 2020 or until the vacancies are filled.
How long does the master last ?
The Master in City & Housing lasts 7 months of lessons and there is a final submission in October. So, the course will start January 13th and will end in October 19th. The program consists of 600 hours which is equivalent to 60 ETCS.
Why study MCH?
There are many reasons to study this master's degree, but we believe the main ones are that it's practice-oriented, the teachers come from all over the world and are great professionals with a high profile and specializes in fields such as energy and sustainability, housing theory, Urban design, business, management & international activity, among other very interestinf areas. All this makes it a very complete master degree and, of course, the language is English.
What diploma do I get?
When you finish the lessons and the final submission successfully, you will get the UPM / ETH Diploma: "Master of Advanced Studies UPM/ETH in Collective Housing". You must think that ETH Zurich is one of the most prestigious technology university in the world and officially recognizes MCH as one of its MAS programs.
Who are the teachers?
We have already mentioned that all the teachers of the master are great professionals of architecture and are specialized in one area. Among the professors, there are Jacob van Rij, André Kempe, Javier García Germán, Andrés Cánovas, Atxu Amann, Dietmar Eberle, Nicolas Maruri, Alison Brooks, Andrea Deplazes and many others.
How much does the master cost?
Certainly the price of the master is not cheap, it's 19,300 € and the accomodation needed during the study trips abroad is included in the tuition fee price.
In general, the opinions of the students who have studied this master's course are very good, so we encourage you to take a look at their website to get to know the whole programme of studies, see the complete list of teachers and lecturers, and read the students' opinions.
We hope this information has been of interest to you!
In these times when selling products online, either on your own website or through platforms like Etsy, product photography is more important than ever. A good product picture will attract more attention from potential buyers on your social networks or in your online store, they will be able to see the product in more detail, seen from several angles, and even with a 360° view, which will be more eye-catching and will increase your sales.

This article is going to give you tips and tricks to improve your String Art photography in order to sell more items in your online store. You can take a look at these Websites for Photographers, as there are many examples of how well these product pictures look on websites.
A PROPER LIGHTING
One of the most important things in photography, if not the most important, is lighting. Think that photography, in fact, as capturing light or capturing the image that light projects. Therefore, pay attention to it more than anything else. Light can be natural or studio lighting.
Daylight photography is very attractive for this type of product as a String Art. Try to take photos in the early morning or in the late afternoon, when the sun is out. If you don't have a patio or garden, place the product very close to the window and put a white cardboard or aluminum foil on the other side to reflect the light and balance the shadows.

In studio lighting, place the lights so that they do not create a shadow or, if not, buy a lighting box or softbox, ¡they are very cheap and you will not need spotlights or diffusers.
A GOOD COMPOSITION
Composition is yet a very important point in product photography. It is difficult to achieve, but it can be done, especially if you look at the pictures of big brands. For example, the pictures of a the String Art piece will be better if you put some elements such as flowers or plants around it. t will give it a more attractive, homelike and natural look.
SHOWS HOW IT LOOKS ON THE WALL OR SHELF
To give the future buyer an idea of String Art size and its style, it is a good idea to take a picture of how looks hanged on the wall together with other pictures or on top of a shelf. It will give the costumer a real aspect and also give him inspiration about the decoration or where to place it.
USE A BASIC PHOTO EDITOR
Perhaps it is too difficult for you to do a Photoshop course, but in most cases it is necessary to retouch the images a little with an editing program. We recommend you an application called Snapseed with which it is easy to retouch the lighting and the colours of the pictures to make them look better.
Of course, whenever possible, we also recommend using a tripod for better focus on long exposures, as well as using an SLR camera. However, smartphones take better pictures every day, so it is not strictly necessary to use a semi-professional camera to get good product pictures.
We hope that these tips will help you to improve your String Arts pictures and that you will be very successful in your online sales.
We all want our house to look its best and, whenever possible, to be decorated with our own crafts, such as String Art DIY. Today we are going to put the focus on the walls where we hang our String Art projects.
There is no doubt that the walls with natural stone mosaic tiles is one of the best options that exist in interior designs. You can take a look at this link to the natural stone mosaic proposals made to us by the people of L'Antic Colonial.
String Art projects are very related to geometric figures, in fact, they are pure geometry, that's why we think it's a good idea to hang our works on walls with mosaic tiles that form geometric figures, like the ones we are going to see next.
CHESS STRING ART ON CHESS MOSAIC TILES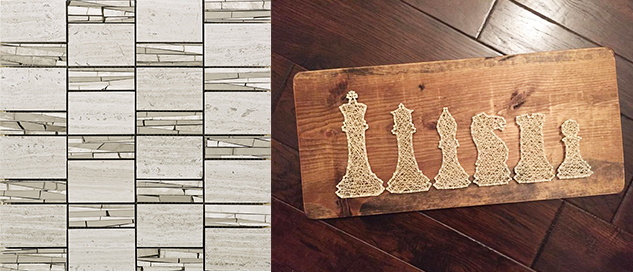 For example, if we like chess, as well as its geometric figures and pieces, such as the knight, bishop, pawn, rook or queen or king , a very good option is to hang it on a wall with a natural stone mosaic that is inspired by the chess board in two different shades, like the one we see in the picture above.
BEES STRING ART ON HIVE WALL
We imagine that we have to decorate the walls of a kitchen and how it can look good. We love the option of a mosaic of natural stone tiles with hexagons that, together, form a hive. And what better than putting a String Art of a bee on it? Also, the honey is related to cooking and food storage, so it could be a good idea and will look great.
SACRED HEXAGON ON HEXAGONAL TILES
It is true that for other spaces in our home, such as the living room, the bees may not look good, so another great option is to place a nice and well worked sacred spiral hexagon String Art on a hexagonal tile mosaic wall. In fact, this spiral hexagon is part of the sacred geometry of mandalas, so everything together can inspire concentration and inner peace to our home.
CHEVRON STRING ART ON CHEVRON TILES
What about the chevron? Without a doubt, it is a modern and minimalist geometric pattern that can look good in rooms decorated in a contemporary style. It could be original to put a chevron String Art on a chevron wall tiles. ¡But be careful! It would be better that the String Art chevron lines are oriented like the lines on the wall, otherwise it will send a contradictory message a it could result bit weird to our brain.
TRIANGLE STRING ART ON A TRIANGLES AND TRAPEZOIDS TILES
Our last proposal is about triangles, so we have thought about triangles or impossible triangle String Art for mosaic walls like the one in the image above, made up of trapezoid and triangles tiles. It's incredible!
We sincerely hope that you liked our idea of combining the geometric figures of the String Art with that of the tile mosaics on the walls. What do you think of the idea? Will you put it to the test? Tell us and see you soon.
If it is one thing we take pride on, it is providing a fun and unforgettable experience in each of our escape games.
Escapehour is where you will be tasked to choose between one of four exit games. Each one gives you a different set of tasks to complete the mission. Throughout the game, you will find clues, riddles, and surprises that you were not expecting. As you move further towards solving the mission, it would help if you brought a large group with you. When that happens, you are going to find out what is your purpose in the group. Are you the one who will lead the group and assign to tasks to everyone? Perhaps, you're the one who will attempt to find all the hidden objects.
Find out why we are one of the best-rated escape games in Edmonton. When you go there, you are going to meet people from everywhere in Calgary. Before the game, you will be forced to surrender all your gadgets and wallets inside a locker room. No need to worry though because we guarantee your personal belongings will be safe with us. All our games are challenging and you won't be doing it alone. In fact, we allow a minimum of 2 players for all the exit games. How you divide the work between your team will be completely up to you.
We are always taking your comments and suggestions in order to make our exit games the best experience possible. We would want nothing more than to satisfy you in every way possible. Thus, if you want to make a suggestion, please don't hesitate to reach out to us. You can expect our rooms to be designed perfectly. We hired the best designers in Edmonton to come up with the best designs possible. You will definitely want to take a picture inside the exit rooms but that is not allowed or that would spoil future participants.
All our rooms including the Lost Jewel of Zanzibar and Curse of the Evil Genie are all original. You will certainly not see these concepts in other escape rooms all over Calgary. For any reservations, better email them at [email protected]. It would definitely be best to reserve several weeks in advance or else your preferred day may run out of slots. Also, if you are having a hard time figuring out how to get there, they can help too.
The truth be told: for most people the day does not begin when the alarm clock rings, nor when they get out of bed, nor when they wash their face… The day begins when the coffee maker starts working, they smell the aroma of the coffee, they drink it and the wonderful caffeine takes effect and they start running. Today we are going to see several String Art designs for coffee lovers that can be used to decorate their kitchen, as a gift for their birthday or to decorate a café. Let's take a look!
TRUE LOVE
This is one of the most popular Coffee String Art coffee, as its design is beautiful and easy to make. Simply the aroma of the coffee rises forming a heart that catches us. Lovely!
LOVE IS IN THE AIR
We continue with love. In this Coffee String Art, red hearts come out of the coffee and go up, and go up… It reminds us of when you start a live video on Instagram and hearts don't stop floating… Love is in the air.
RED HEART
More hearts, more love. This one is different from the previous two String Art. Its design is simple but effective: just a big red heart in the middle of the mug that shows our love for it. True passion.
HANGING MUGS
To store the mugs in the kitchen there is a system that we love, and it is to hang the cups on a board with hooks, that's what we call "Hanging mugs", "Coffee mug holder". Now comes the fun part: decorating that board with drawings and words created with the String Art technique. As you can see, you can write coffee with a nice lettering, draw a mug or a nice quote or name like "Mug Life"
COFFEE, ANYONE?
We listen "coffee, anyone?" and those words come to our ears like poetry, like heavenly music… It's a question that we find so hard to say "no"… We think that os a nice idea for coffee String Art design. Perfect fot a kitchen or a café decoration.
COFFEE IS LIFE
Nothing is so simple to understand that coffee gives us life as this String Art which represents an electrocardiogram that works perfectly, but it stops… you drink coffee, and it still works perfectly again. The circle of life!
COFFEE LETTERING
We really feel passionate about lettering, so if we mix lettering and String Art, there's a combo! Notice how beautiful these brush letters are and how they write the word coffee. Simple but lovely.
BUT FIRST, COFFEE
How many times have we heard the sentence: "but first, coffee"? For coffee lovers, everything is better if they have had coffee first: a conversation, a meeting, a bit of exercise, a trip… Well, that's it, first, coffee and then we'll see.
TEA OR COFFEE?
I wish all the problems of our life were to find a solution to the dilemma: tea or coffee? Well, this String Art is a tribute to those days when the only problem we have is choosing between tea or coffe… or kombucha 😉
TAKE AWAY
Do you prefer to take a take away coffee and walk around the city with the mug in you hand? Well, there's a String Art for you too. Very fashionable!
We hope you enjoyed these String Art coffee ideas for coffee lovers and that you have found the perfect design for you or the person you are giving it to. See you soon!
Christmas is here and it's time to start making Christmas presents. You know that in this blog we love handmade gifts and crafts, so we believe that it's a good idea to give a cup of coffee String Art to a coffee lover so he can decorate his kitchen or the corner where he usually drink his coffee and enjoy it even more that he usually does. Of course, it can also be a self-gifting to decorate your own home with your art.
In this post we bring you a tutorial step by step to learn how to make a cup of coffee full of love String Art, but first let's see the materials that you will need and a free cup of coffee template for download.
MATERIALS
To make this String Art you will need the following materials:
A piece of wood
Nails with heads
Strings
Pattern
Hammer
PATTERN
We like to make it easy for you, so here you have the pattern used on the tutorial. Of course, you can download the coffe cup template for free.
STEP BY STEP
Once you have all the materials and the printed pattern, start to make the cup of coffee String Art following those steps by Jendi:
STEP 1
The first step is to get a piece of wood and fix it, restore it or paint it, according to your preferences. You're also going to prepare it for hanging, so you have to drill a hole in the back.
STEP 2
The second step is to place the template on top of the piece of wood. Before printing it, make sure that the size of the paper matches the size of the wood. If not, enlarge or reduce with a software like Paint, Photoshop or by adjusting the parameters in the printer software.
STEP 3
The third step is to nail the nails with heads into the wood using a hammer and following the pattern lines or the silhouette. There is no specific way to do it, the space between nails is not always the same, it depends on the area and the shapes. When you're finished, remove the paper template trying not to break it for keep it as a reference.
STEP 4
Now is the time to work with the threads. They can be made of cotton, wool… as you prefer. The thread is tied with a knot on the first nail. Then, it is rolled up in the head of the nails. There is also no exact way to do it, it is a creative process, you fill in the shapes to your choice. You can also use different colors for each part. For example, draw the cup with orange thread, the coffee with dark brown or black thread, the foam and the heart with white thread… When you finish with a color or zone, you have to tie a knot with the thread in the last nail.
STEP 5
The last step is to cut the leftover threads or the end of the string, if necessary, or glue them to the other strings using white glue.
Once your craft is finished, you can give it as a present or to hang it on the kitchen or living room walls and, of course, you can also prepare a tasty coffee with a Continental Coffee maker. Enjoy it!
Nowadays the audiovisual content is booming and more and more people who are dedicated to handcrafts decide to make video tutorials to reach more people. In addition, they can upload these videos to Youtube and other video streaming platforms and, thus ,earn extra money that might use to buy more material for their videos or as an extra source of incomes.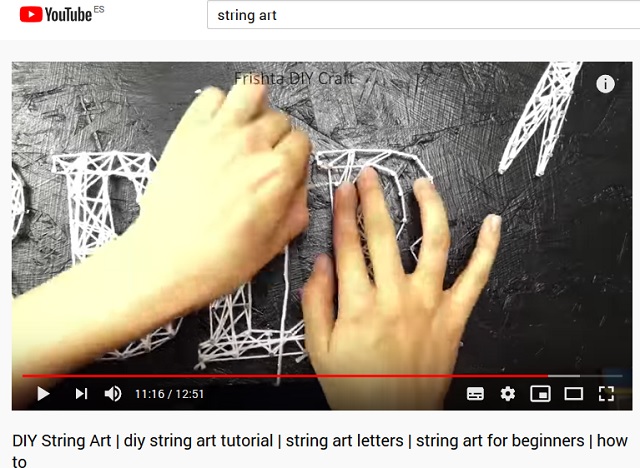 However, these video platforms, especially Youtube, take into account the copyright, especially the musical, and if you edit a video using a song with copyright, it detects it immediately and disables the video monetization. That's why today we're going to talk about sites where you can download music without copyright in order to monetize your videos and that cou can see your effort rewarded also financially.
In Patrick de Arteaga's non-copyrighted music
We have found a website that we like very much and that is full of songs that are great for handcraft video tutorials and for video games. In Patrick de Arteaga's non-copyrighted music website each song comes with a description and it's easy to listen to them without having to download them. If you decide to use one of his songs, the only thing you have to do in return is to add a link to the site patrickdearteaga.com in your credit's project or in the video description box. We encourage you to listen to his list, it is full of surprises and magic sounds.
In Youtube's Audio Library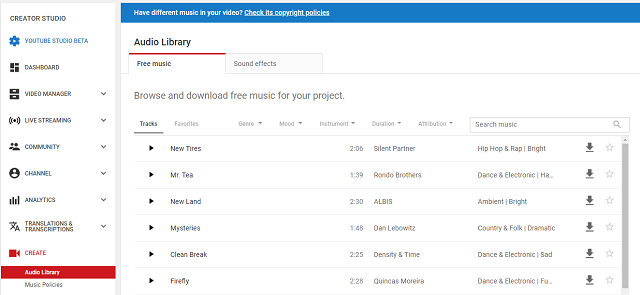 The Youtube's Audio Library has some royalty-free songs to put as background music in your videos, there are not many, but they are well selected and ordered. In the classic version of Youtube, it's easy to access, as you can see in the image. In the Beta version it is less intuitive. You have to go to "Editor" and in the audio bar, click on the musical note symbol ♪ , then "+audio" and, finally, the library opens. There e you can see the list by author, genre, mood, duration, favorites… Then, you just have to click on "add to video" and that's it.
In Soundcloud Best No Copyright Music Playlist
We are sure that you've used Soundcloud many times to listen to streaming music, especially from little-known musicians, but did you know that it has a royalty-free music section where you can download some songs and use for your video tutorials? Most of them, however, require you to put an attribution, so read each one well, they ask for different things, as they are Creative Commons Music. We recommend to you to follow the playlist "Best No Copyright Music" on Sondcloud and enjoy it.
As you can see, there are many sites where you can download royalty-free music. In this way, in addition to monetizing your videos and earning money, you are helping to spread the work of lesser-known musicians, who need people to give them a chance to become more known.
We hope that these websites and sources have helped you, that many people see your videos and that you earn a lot of money. If so, buy to these independent musicians a license or make a donation to the musicians who offer their songs for free. They would appreciate it!