Our favorite time of the year has arrived: Christmas is here! And it's just the time to send Christmas cards to our beloved ones. What do you think if we make them ourselves? Today we propose to you to make String Art Christmas cards with the shape of a christmas tree, an angel or a snowflake. For some of them, we give you the link to visit the tutorial. If not, we provide to you the free pattern or the free template to make it easier. Let's go!
MODERN CHRISTMAS TREE STRING ART CARD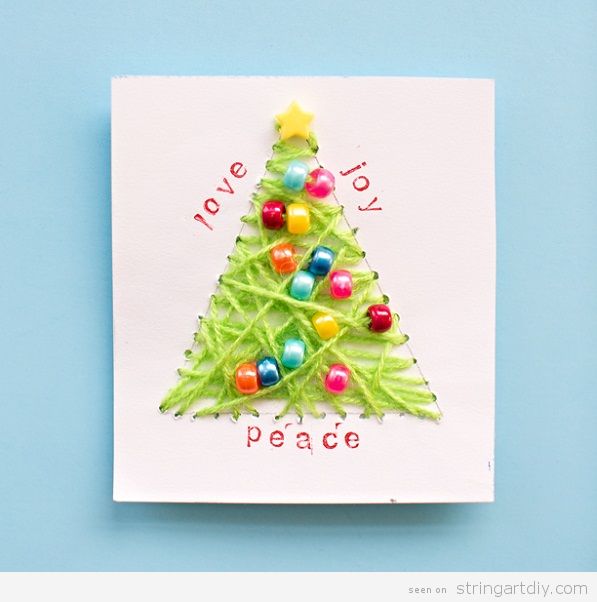 To start with, here you have this modern Christmas tree card, very easy to make, including some beads as a decoration. If you add words like "love", "joy" or "peace" is even more lovely. You can see the full tutorial step by step here: Hello, Wonderful. Simple and funny to make with kids, but be careful with the needle!
ANGEL STRING ARTCHRISTMAS CARD
This one it's also made by Hello, Wonderful, and the process is just the same that the modern tree. Instead of a tree, it's an blue and white angel. Pay attention to his halo or crown made using silver and very small garlands. So cute!
SNOWFLAKE STRING ART CHRISTMAS CARD
We have found on Jaded Stephanie Pinterest this wonderful snowflake Christmas Card and we think that it deserve a try because it's a beautiful, simple and modern design.
TRADITIONAL CHRISTMAS TREE STRING ART CARD
If you prefer a traditional christmas tree card instead, here you have another design by dominicInOhio. It's algo very minimal and elegant. As we can't bring you the tutorial, here you have a similar patter or template that maybe you can use: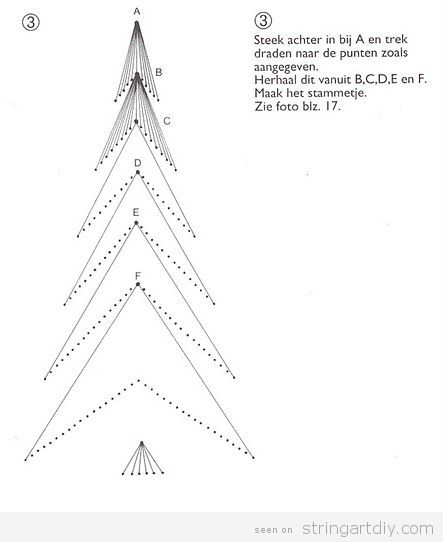 STITCHED TREE CARD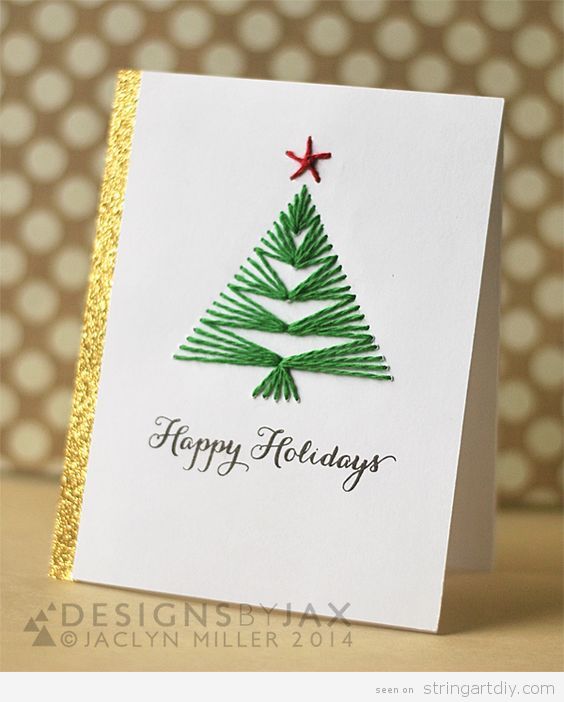 Yes, instead of call it "String aAt card" we can call it "stitched card" because it's a kind of embroidery work. This project it's also very easy to make and you can follow all the process step by step by visiting The Twinery. Minimal, elegant and very festive design, indeed, including the calligraphy and the glitter part.
CHRISTMAS TREE MADE BY CIRCLES STRING ART CARD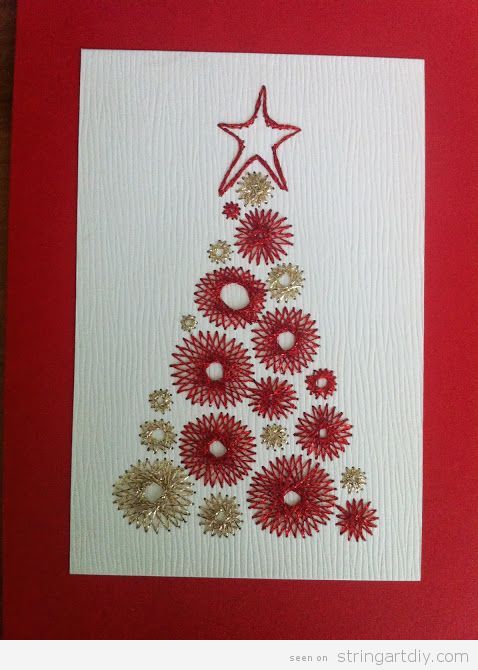 We finish by proposing you this original way to create a Christmas tree String Art card. Its shape is made with red and golden String Art traditional 8, 16, 24, 32 or 40 points stars. Here you have the template to a 16 point star String Art, but the process is the same by multiplying the points.
We hope you enjoyed these String Art Christmas Cards. If you decide to make one, please, send us photos to our Twitter or Facebook. Rembeber: @stringartdiy on Twitter and String Art DIY on Facebook. See you soon and happy holidays!
There are many people who have a very clear dream: to start a beauty salon that offers many services, such as hairdressing for men and women, make-up, manicure, pedicure and any beauty treatment.
The first step to achieve this dream is to get a complete education and take courses in hairdressing, specific make-up and like Permanent Makeup Courses Edmonton, as well as manicurist courses and specific beauty treatments.
Once you have completed your studies, it is time to become self-employed and start a beauty salon. There are a good deal of furniture, accessories and tools needed to make such a business work, but today we are going to focus on our favorite and favorite theme: String Art. Read on to see all the ideas to decorate a beauty salon with string art pieces.
String Art with name of the beauty salon
The first thing you might think of is that the store sign is a work of String Art. As we can see in Akruti Beauty Salon, over a dark wood background there is a wonderful lettering in different shades of pink gradients, while "beauty salon" has golden letters. If you do not want to put it on the outside door, it is a beautiful sign to place at the reception. Add a few natural plants to the sign and it will look fantastic.
Butterflies with beauty
"Butterflies with Beauty" could well be the name of the beauty salon, but it is also a good choice if the business has butterflies as a theme, as it is a beautiful decorative motif.
The best thing about this Nail Art, apart from the elegant lettering, is that the butterflies form a crown where you can see different species of different colors fluttering around beautiful flowers. We have fallen in love with it.
Lips and lipstick
if something is representative of a beauty salon and its makeup section is big painted lips and a lipstick as a symbol, so this String Art can be a perfect option to decorate that make up corner, as well as if the main colors of the salon are red and black.
Hairstyle String Art
Another very important part of a beauty salon is its hairdressing section, so it can be a good idea to place in that section some String Art where you can see women with special hairstyles or daring looks, as we can see in this String Art where a girl is wearing an high bun.
Moustache and scissors String Art
There are beauty salons that also offer hairdressing services for men, so you can decorate that section separately, creating a corner that is a barbershop. For this, a String Art with a mustache, beard and scissors can be perfect, creating a masculine atmosphere inside the beauty salon.
So much for our String Art proposals to decorate a beauty salon. As always, we hope you have found inspiring ideas and that the result of the decoration is a space with perfect vibrations and energies to relax and enhance the inner and outer beauty of each person.
Playing video games online can be a fun activity with which to spend long hours of pure entertainment, but it can be even more fun if you play with your brother or sister or a friend by your side without the need for controllers, simply with the computer keyboard.

Do you know what are the 2 player games? They are simple games for children or adults who want to have a good time playing with their children found on websites like Friv5Online Games Studio where two players can play simultaneously using the computer keyboard, one plays with the arrows and the other plays with the AWD keys. Let's get to know, then, the best 2 player games online!
Fireboy and Watergirl
Fireboy and Watergirl 1: Forest Temple is a fun game and the goal of the protagonists is to get the red and blue diamonds and bring both characters safely to the exit. The heroes form a good team thanks to their complementary powers and weaknesses, such as fire and water. To get through the Forest Temple, they will have to work as a team, using their strengths. If you like this game, you can find more adventures from the Fireboy and Watergirl game series in other settings.
Drac & Franc
Do you like Dracula and Frankenstein? Then this game will make you fall in love with them, as they are the main characters. There is no doubt that this is an epic adventure with two legendary monsters. In this 2-player online game each person will have to help Dracula and Dr. Frankenstein reach the end of the dungeon. The key to this game is to work as a team to overcome obstacles and collect gems to reach the end of the level. I'm sure you'll have a scary time!
Zombie Mission 3
In case you enjoyed playing Zombie Mission 1 and 2, now you can have fun with the 3rd part of Zombie Mission! Like the two previous ones, this is a cooperative game for 2 players in which each person must control a character with the intention of helping each other to overcome all the levels. The goal is to collect hostages and data disks with important information about humans and use all your weapons to destroy hundreds of zombies while avoiding falling into the dangerous death traps that lurk along the way.
Street Fighter 2 Endless
If you like classic one-on-one fighting games, there is nothing in this world like Street Fighter. Luckily, we can also play it online with 2-player games in this Street Fighter 2 Endless. When you start, you will see the mythical players Ken and Ryu and you can start fighting, even with the space key, which is shared, you can launch their special attacks. In addition, replicas of each character will appear. Amazing!
Evo Warriors
This is a fantasy game where you have to eat steaks, eggs and milk to make your little character grow, but be careful, as you can't eat the poisoned potatoes or you will become small again. The key is to fight against the smaller players and run away from the big ones.
So much for our selection of 2-player games that your children will love. If you want, here is the io games list you can find more games and have fun together, have a great time!
Minimalist decoration has taken a turn for the better in recent years. From a Nordic decoration with very polished and straight lines, it has given way to a more modern and natural decoration, with curved shapes in architecture and furniture, as we can see in expormim.com, all decorated in beige tones as a background, but with the presence of warm colors like mustard or terracotta. On the other hand, exotic plants are a must, as well as elements of traditional pottery or handicrafts.
At this point, in the craftsmanship, we come to the String Art pieces, so we are going to propose some that we believe can look perfectly in a decoration of this style.
3D String Art Human Hand
As we see in the image above, the volume is important in this type of decoration, so we can put a String Art directly on the wall to recreate the 3D effect, or we can choose to make a Wire Art and hang it from the ceiling for certain corners or areas of the house. In this case, the shape of the human hand is spectacular.
The important thing is to play with round shapes, curves and volumes that match the architecture (arches, staircases…) and furniture (chairs, sofas, tables…).
Curvilinear figures
Again we emphasize the curves and the female body is usually a sample of it, therefore, subtle and minimalist String Art with the figure of a woman's body in elegant or suggestive positions may be the ideal complement to this curvilinear furniture.
In addition, they are very easy to make, since it is enough to glue the thread on a white background recreating those lines and frame it, as we can see in the photo above.
Human profiles
We can not leave behind the idea of the human body in this type of decorations, so we have found these wonderful wire sculptures by Gavin Worth inspired by the human anatomy. Although they are made with wire on a wooden board, think that you can recreate these figures with a String Art on the wall and the effect will be very similar.
Face Shadows
The innocence of a child's face, with its curved, graceful and tender forms, is perfect for this type of decoration, so a String Art where these faces appear formed by the contrast between the shadows and the white of the background canvas is touching.
A painting intervened with threads
Also in expormim we have seen this painting to decorate a space that is between the interior and exterior of the house, such as a porch, with a spectacular Japanese concept sofa. Notice that the human figure is again present, and from it come out lines as if they were branches and leaves of trees. Here the idea is to intervene a painted picture and replace or give volume to those fine lines with threads. The result is striking and overwhelming.
So far our proposals of String Arts, Wire Arts or Interventions with thread inspired by the human body to decorate a minimalist room according to the current precepts. We hope you liked them!
Gambling and betting is a real passion in many parts of the world, but especially in the United States, where it is a way of life and even a lifestyle. The thrill of gambling is something that adds spice to life and millions of Americans play games such as Live Casino Online or go to land-based casinos on a daily basis.
But it's not only about casinos, poker games are also common among friends as a form of entertainment, so today we are going to propose a series of String Art for lovers of games like poker and that will serve to decorate the room where they usually meet to play these games, whether the living room, a separate room in the house, the garage or the typical man cave, so let's take a look!
Poker symbols
Obviously, the best way to decorate a poker room is with a string Art of poker cards, so a String Art that includes the best-known cards or symbols will look great, even for those who do not play poker, such as clubs (♣), diamonds (♦), hearts (♥), and spades (♠).
The predominant colors in these cards are red and black, so these are the two colors with which the String Art should be made, like we can see on the image above. On a dark wooden background, they look beautiful!
Casino Wheel String Art
The casino wheel is another of the predominant elements in a casino and it draws a lot of attention with its numbers, colors and movement, so another great idea to decorate a room inspired by a casino is with a String Art inspired by the wheel and that be able to transmit that movement, mixed with the neon lights that usually exist in casinos and the movement of people coming and going.
Welcome to Las Vegas
If there is a city that is the "Mecca" for people who like to gamble, this is undoubtedly Las Vegas, as it is the place where there are the most casinos and where the most famous are located. One of the best-known items is his well-known sign "Welcome to fabulous Las Vegas Nevada", so we think it's an extraordinary idea to make a String Art with this sign and decorate it with some light bulbs. Don't you think it's spectacular? I want to make it right now, the man cave will look amazing!
Casino Chips String Art
Another element that is an indisputable symbol of casinos are the casino chips, therefore, it may also be a good idea to carry out a String Art with casino chips in a realistic or slightly inspired way, like the one we see in the proposal made in the image above.
Dice String Art
In a game of chance, the dice cannot be missing, they are the ones that often decide if we win or lose and they are a symbol of chance. Go ahead and design a String Art with one or more falling dice, black and white, and it will look fantastic.
In short, all these ideas to decorate a room for the game are excellent, so you can get down to work right now. We do not want to finish telling you that if you want to find the Best Odds in Casino, in this link you have all the information. Play responsibly!
Living with muscle pain in different parts of the body affects our daily life, whether for work or for activities or hobbies that we enjoy, such as String Art or any other activity where a bodily activity is necessary and indispensable.
That is why it is necessary to look for solutions to improve these pains, usually in the neck, different parts of the back, arms, legs or hands. Many of them are the result of having a bad body posture while working or sleeping for years, while others are caused by falls or accidents. Whatever the case, especially if it is a postural pain that causes swelling or inflammation, we are going to introduce you to three products that will relieve pain in these areas so you can improve your quality of life and perform daily tasks with less pain.
Heating pads for neck pain
The first product we want to talk about is the microwave heating pad for neck pain relief. You probably already know about these pads, but just in case, we want to tell you more about them. They are made of quality cotton fabric with different prints that have Flax Seeds and lavender inside. Their main feature is that they can be put in the microwave for a time determined by the manufacturer and then placed on the shoulders. In this way, they relieve muscle pain in the neck, shoulders and trapezius, relaxing the area. You can wear it while reading, studying, writing or even working at the computer.
Gel Ice Packs for Elbow & Arms
The second product we want to talk about is the Gel Ice Packs for Elbow & Arms, which you can find in stores like feelrecovery, specialized in this type of products. The process is simple, since you only have to put the gel in the freezer for a while, put it inside the compression band so that the cold does not burn your skin and then put it on the area you have inflamed, which can be the upper arm or elbow. The cold will help reduce swelling and will make it less painful to play sports, write, cook or do any manual labor.
Knee Compression Sleeve
Another of the areas of the body that suffer most is the knee, since they support a large part of the body weight and suffer a lot in certain sports where there is rebound, such as running, soccer or basketball. To relieve knee pain, a good product is the Knee Compression Sleeve, as it helps reduce swelling caused by tendonitis and other common knee injuries, such as sprains, dislocations, bursitis, MCL Injury and many more that often affect many people, especially athletes.
By reducing pain throughout the neck and shoulder area, as well as in the arms, elbows and knee, you will see your quality of life improve and you can return to your hobbies. If your lumbar or other areas of your legs, even your feet, are sore, keep looking, as there are specific products for each part of your body.
String Arts and geometric tattoos are closely related, as geometry plays an important role in both. Today we want to show you the works of a special tattoo artist. Jeanmarco Cicolini is a geometric tattoo artist in Texas and his designs are really spectacular. We are sure that they will serve as a source of inspiration for your String Art or any decorative project you have in mind, so let's take a look at them.
What do geometric tattoo mean?
The meaning of geometric tattoos can vary, since a triangle does not mean the same thing as a circle. While a triangle can mean balance or even the Holy Trinity, a circle can represent unity, completeness or the eternal return. However, in general, what is sought with a geometric design is harmony, perfection and symmetry, something that pleases our brain and sight, while being tremendously attractive and visual.
Geometric tattoo half sleeve
Let's start with this wonderful half sleeve tattoo, because it is a good letter of introduction. Full sleeve or half sleeve tattoos are very popular nowadays, and a combination of different geometric designs with 3D effect and depth looks amazing, as we can see in the image above.
Geometric tattoo on the biceps
The bicep is also a part of the body where a geometric tattoo can look great. As we can see in the photo, a design of a geometric flower or a mandala, from whose center all the petals radiate, all done with the pointillism technique, results in a beautiful tattoo.
Geometric tattoo on the back
The central part of the back, below the neck, is an ideal area of the body for a circular geometric tattoo representing a kind of mandala. As we can see, again, the pointillism is a success in this type of designs. It looks great for both men and women, so don't hesitate, it's an excellent choice.
Geometric tattoo on the chest
What do you think about geometric tattoos on the chest? Both on the chest and on the shoulder area, reminiscent of tribal tattoos of initiation rituals, so it can also be an area of the body suitable for this type of tattoos, as they have a lot of meaning and tradition.
Geometric tattoo on the Leg
Just as sleeve tattoos are worn on the arms, sleeve or half sleeve tattoos on the leg are also popular. As on the arm, the idea is to combine several geometric designs, some represent stairs with volume, others are rhombuses, others are zigzags… if the tattoo artist is good, he will know how to complete well the whole leg.
Geometric tattoo on the leg and the foot
And what about the tattoos on the lower leg that run down the foot, around the instep area? They are very attractive, and even more so if it is a geometric design that represents something like a lattice or a or a honeycomb. We have fallen in love with this one.
Geometric tattoo on the sidehead
We finish with a slightly riskier proposal, as it is a tattoo on the side of the head. As you can see, it is to form a kind of geometric flower around the ear and the result is very impressive if you have shaved hair
Did you like these geometric tattoo ideas? We hope you liked them as much as we did and that they are a source of inspiration for future tattoos or even for String Art pieces.
Hi, guys! Are you ready to give a different touch to your bedroom, living room, café or coffee shop with a craft related to that plant that gives you so much relaxation and relief? Well, you're in the right place, because today we're going to give you a series of ideas so that you can make your own String ART related to the marijuana plant, especially weed leaves. By the way, at hookah store online you can find many objects to inspire your designs, take a look at them. Well, here we go!
Classic Weed Leaf String Art
The first idea is perhaps the simplest, as it involves realistically weed leaf shape on a dark wooden board, as shown in the image above. It is the most minimalist and classy thing you can do in this theme, so we recommend it.
As you can see, it's just a matter of drawing the marijuana leaf on the board, sticking nails around it and turning the offspring dark green or as close as possible to the original plant.
Rastafarian Weed Leaf String Art
We love this idea too, as it pays homage to a culture where marijuana is the mother plant and where the best reggae musicians in the world have come from. Of course, we are talking about the Rasfataris, so this String Art with the marijuana leaf has yellow and red borders that, together with the green of the leaf, form the flag of the Rastafarians. It is also a very psychedelic piece of String Art, so it will look great in a decoration of this style.
Funny smoker
This proposal is really different and involves a very funny character who is smoking weed. If you are one of those who laughs when you are using this medicinal and recreational plant in equal parts, then this is the perfect design for you.
Rastafarian Marijuana String Art
Here again we see how another String Art design has gone for the colours of the Rastafarian flag, but in this case, instead of the outlines, we find the colours red, green and yellow on each of the leaves, forming a beautiful design. On the other hand, the String Art style is more classic in terms of the shape of the threads, so if you want a more traditional piece, this one is perfect.
Negative and elegant Weed Leaf
Finally we come to a very elegant String Art, as you can see, it is in deceptive, that is to say, the background is full of white threads and, in the area where there are no strings, you can see the shape of the marijuana leaf. Undoubtedly, a very classy way to pay tribute to your favourite plant without strident colours.
If you want to find more accesories to inspire your designs, gt hookah has it all, so take a look. We hope you liked them and that you enjoy being surrounded by such a relaxing decoration.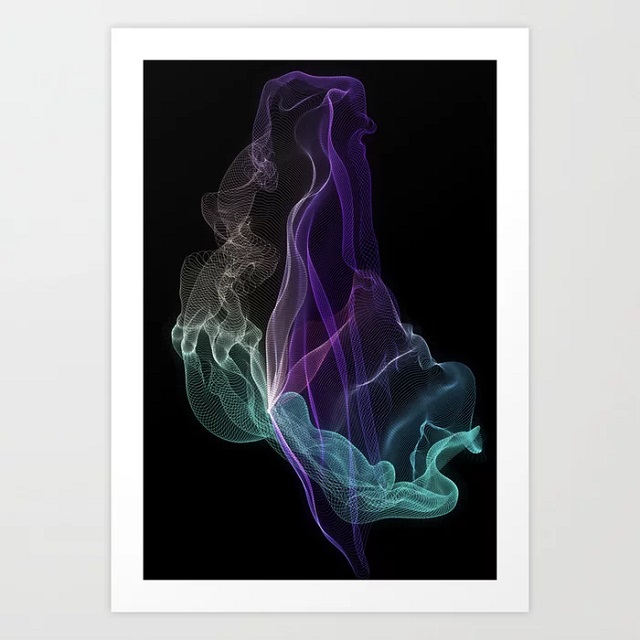 When you decide to start a vape store open to the public, there are many decisions you have to make to make your business prosperous. First, you have to worry about the more practical matters, such as finding a vape wholease supplier so that you get a good price. Second, you have to find a place that is well located at street level where there is a lot of foot traffic to attract potential customers. Third, you have to make that store attractive, with nice shelves and decorations. Of course, you can't forget the marketing part and the advertisings, both on the street and online.
We are not going to deal with these practical business issues now because it does not concern us, but we are going to help you make the store look better to attract customers by decorating it with String Arts that create atmosphere. So let's take a look!
Ethereal String Art
The idea of this type of decoration is that they have an abstract air, like water vapor or smoke, to create a good atmosphere in the vape store. That's why we love this design created by Angora_Wings and available at Society6.com, because it manages to create that upward movement with very attractive and ethereal colors.
Spiral and hypnotic String Art
There are people who, when they vape, want to be transported to another world where they can be calm, relaxed and happy, so this String Art with a hypnotic spiral in neon green is a good idea for certain areas of the store and take your customers to another place.
Colorful
Geometric designs fit very well in this type of vape stores, that's why we also thought it was a good idea this piece by String Art where different layers with graceful movements flowing upwards, all full of color and joy. We absolutely love it.
3D Blue Geometric String Art
What impressed us most about this String Art is that the combination of different geometric shapes produces an amazing 3D effect, which is great for giving depth and volume to the store, as well as having a very magnetic blue that helps create the right atmosphere for the store.
Geometric Eye String Art
We finish our selection of String Arts to decorate a vape store with a slightly weirder proposal: a geometric eye. This artwork manages to capture the attention with its central rounded pupil and can make you enter another world, just as the spiral String Art does. It can look good anywhere in the store, even if you have an area with sofas.
We don't want to finish this article without telling you that this decoration can also be used for tobacco shops, as we can see at https://hookahpartner.com/category-product/tobacco/,s o so think about these proposals for all types of stores that are related to the world of smoking.
As always, we hope you liked these String Art pieces and that you have fallen in love with some of our suggestions. Remember that you can make them yourselves DIY, in our blog you will find lots of tutorials. Have fun and we wish you a lot of success with your store.
A brand will hires a perfume manufacturers if they want to launch their own perfume. In addition, if they are thinking about starting up a line of perfume stores to reach the public directly, they have to create a very special space where the customer feels welcome, is well decorated and at the same time feels an ethereal atmosphere that invites him or her to try the perfumes being sold there.
In the case of perfumes where craftsmanship takes relevance and where natural fragrances are the star, then it is a good idea to decorate the store with organic materials, such as all natural wood, natural fiber textiles, such as 100% cotton, bamboo baskets and, for the walls, the perfect thing is to bet on handicrafts, such as tapestries or String Art pieces.
This last point is what we are going to talk about with special attention, since our blog is dedicated to it, therefore, we are going to give you some ideas on how to decorate a perfume store with String Art pieces reminiscent of ingredients of the aromas created by the masters.
String Art Perfume Bottle
The first idea is perhaps the most obvious, but it should not be dismissed. As you can see, the idea is to create a String Art in the shape of a perfume bottle. The bottles are almost as important as the fragrances they contain, their designs are very studied to attract the public and, in addition, it ends up becoming a piece of decoration on the dressing table or in the bathroom. Thus, you can take as a reference a perfume bottle whose shape and color you particularly like and recreate it in String Art.
Fruits String Art
Another good idea, especially if the perfumes are separated by olfactory notes, is to place certain perfume ingredients on the walls. For example, if there is a series of products where citron predominates, then a Lemon String Art is a fun and refreshing idea.
Flowers String Art
On the other hand, if there is a selection of perfumes dedicated to flowers, it is also a good choice to place a flowers String Art, since a lot of them are commonly used in many women's perfumes.
Jasmine Flower String Art
Jasmine is a flower widely used in women's perfumes, in addition, its simple and beautiful forms provide a very ethereal decoration and reminiscent of the Mediterranean and Arab countries, where jasmine is very present in their nights.
Rose String Art
Of course, the rose is another of the flagship flowers of many women's perfumes, so it never hurts to place a String Art rose in those perfumes a little more romantic and sensual, creating a corner with a more intimate atmosphere.
Herbs String Art
Herbs are another of the most used ingredients in perfumery, we are talking about lavender, sweetgrass, vetiver, opopanax, clary sage, heliotrope … so choose your favorite or the most beautiful one to inspire your String Arts.
Lavender String Art
In the world of perfume manufacturer spain and in other parts of the world, lavender is a herb widely used in the perfume industry, so we think it is a beautiful flower to decorate a perfume store in an elegant way.
We hope you liked these ideas for decorating a perfume store with String Arts of bottles, fruits, flowers and herbs and that you will apply the idea in your business.
There's no doubt: Finding a good store to buy string art materials is essential for achieving good results with your DIY project. Quality materials will give you superior results and ensure that your work will last longer and they will look nice when placing them in a wall.
For a quality String Art piece, you will need different types of yarns, twines, threads, nails, paints and other materials. These materials may have different properties which could affect the overall look of your design. For that reason, find a good and very complete store will also carry additional items and tools such as needles, nails, hammers or whatever you need for attaching or weaving the strings onto your wood or canvas.
Luckily, I have found a store where they sell all kinds of materials to be able to make my String Art projects, all of excellent quality and at a good price. It's called Max Warehouse and today we're going to take a look at some of their products that will help us in our string and nail crafts.
WOOD STAKES FOR THE BASE
String Art bases made out of wood stakes is a great way to make interesting sculptural pieces. In addition, it is then possible to use the form as the base for String Art designs, weaving around it with strings of various colors and textures to create a 3D artwork with depth. With clever assembly and manipulation of the wood stakes, you can end up with something truly unique that stands out amongst other wall art.
MANY SHADES OF WOOD STAINS
Another product that could improve you String Art projects is wood stain. It can enhance the wood base by providing a durable, protective finish layer that boost its natural beauty, brings out the grain, and protects it from weathering. A wood stain also highlights particular wood grains or texture, allowing for a more customized appearance, and, of course, could increase the longevity of your String Art, even id it's placed outside.
WOOD PAINT
It is worth adding that if instead of stain you want to use special paint for wood to give more light and color to your project, of course you can also find it in a store like this one. Check out the chalk paint because it's awesome for these kind of projects.
NAILS OF ALL COLORS
On the other hand, nails are an essential piece in String Art, and although they may not look like it, they are seen a lot. That's why you can take the opportunity to let them take center stage or help enhance the design, so it's a good idea to choose colored nails, such as black or copper.
CLAW HAMMER
Of course, to hammer the nails into the wood you will need a good hammer that is special for this purpose, so claw hammers will help you not only to hammer the nails in, but also to remove them easily if you have made a mistake with any of them.
STRINGS AND THREADS
You can use many types of threads in your String Arts, from cotton threads, to embroidery threads, wool, twines, jute, even synthetic outdoor strings like the ones above for a String Art placed outdoors, such as on a porch or patio.
We do not want to finish this post without telling you that, in case you are professionally dedicated to it and do a large number of projects on a monthly basis, it is worthwhile to buy bulk wholesale home decor items and materials in order to make your DIY projects much more profitable. We wish you all the best of success!