Free
Hi, guys! Here you have a wonderful star shaped String Art and the free pattern to download, if you want.
Enjoy it!
Seen on
Topologia
Basically, String Art are geometric figures and the patterns are geometrical drawings. Here you have these stars that you can use as a pattern to make an String Art creaft. Download it for free!
Here you have a heart or mask shaped String Art pattern for free.
You can learn how to make your own String Art pattern with Adobe Illustrator and you can follow the instructions thanks to
Jacob Bugge
on Adobe Forums.
I have the Christmas spirit on my body! Here you have six ideas to make your own String Art project on Christmas.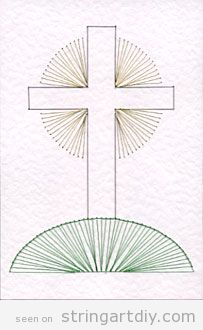 Here you have a pentagone shaped String Art that tries to make the imposible penrose triangle repeatedly… wow! You can alsodownload the pattern for free if you want.
Via Some Things That I've Made on Tumblr
Butterflies String Art are always so wonderful! So you can start to make one with this free pattern even this week-end. Let's go!
via
Hobby Blogo