Olaf
How could we say about Frozen? We suppose that you have already watched it. It's a wonderful movie, far from the stereotyped ones that we are used to watch. All our kids are crazy about Elsa, Anna, Olaf… they can feel that they are kind hearted and they love them.
Today we want to show you 5 String Arts inspired in this movie. Here we go!
ELSA STRING ART
Elsa is the main character and all the girls want to be her and they often are dressep up or disguised like her. Here you have a Elsa wonderful String Art where she are making her magic gesture that creates snowflakes. The background in blue is a nice option.
Source: Derannoula
This Elsa String Art is stunning because the artist has added some flat head pins that makes the outline and add some sparkles to her hair and body. In addition, the snowflakes are very well done. Lovely!
ANNA STRING ART
Anna is Elsa's sister and we could consider her also a main character in the film because is the one who are really worried about Elsa and tries to save her from the ostracism she are suffering.
This Anna String Art is simpler but still beautiful.

Source: Pinterest 
OLAF STRING ART
Olaf is the kindest and funiest character in "Frozen" and he takes our hearts from the very beginning. Look at these two wonderful Olaf String Art that can transmit his personality and his joy.
Source: All strung up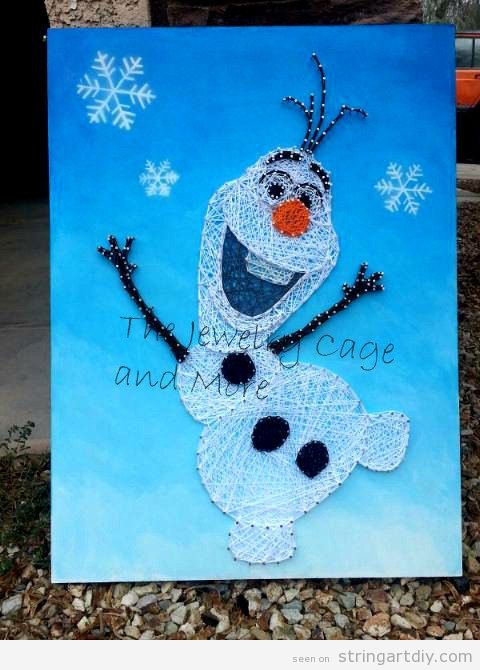 Source: The Jewlery cage and more
Have you loved these Frozen String Art? It could be a really good handmade gift to give to a girl or boy. It would be a nice piece to decorate their rooms also. You can made them yourself of buy in the source links if you prefer. Enjoy it!