Joker
Today we want to pay tribute to one of our favourites String Art crafters: All Strung Up.
We are going to focus on the famous characters from films or cartoon series String Art because they seem fabulous to us, but we encourage you to take a look to all the String Art that All String Up made, as animals, names, inspirational words, etc.
Let's see some handmade String Art inspired in a few lovely characters!
BABY SIMBA STRING ART
So, so, so lovely this baby Simba Stirng Art… we can't add anything because it's perfect.
HARRY POTTER CHIBI STRING ART
"Chibi" is a Japanese slang word meaning "short or small person" and, as you can see, it's a very cute way to portray a character as Harry Potter.
ADVENTURE TIME: JAKE AND FINN STRING ART

Have you watched "Adventure Time"? It's a very unusual and crazy cartoon tv serie and we recommend it so much! The characters, as Jake and Finn are awesome, so this String Art it is.
SNOOPY ON THE DOG HOUSE STRING ART
Snoopy laying down on the dog house roof it's so legendary! This String Art it's perfect do decorate a child bedroom.
ELMO SESAME STREET STRING ART
I would put this Elmo from "Sesame Street String Art" in a some of "nostalgic room" full of childhgood memories, dolls and videogames. If not, just in my office would look nice!
BATMAN AND JOKER STRING ART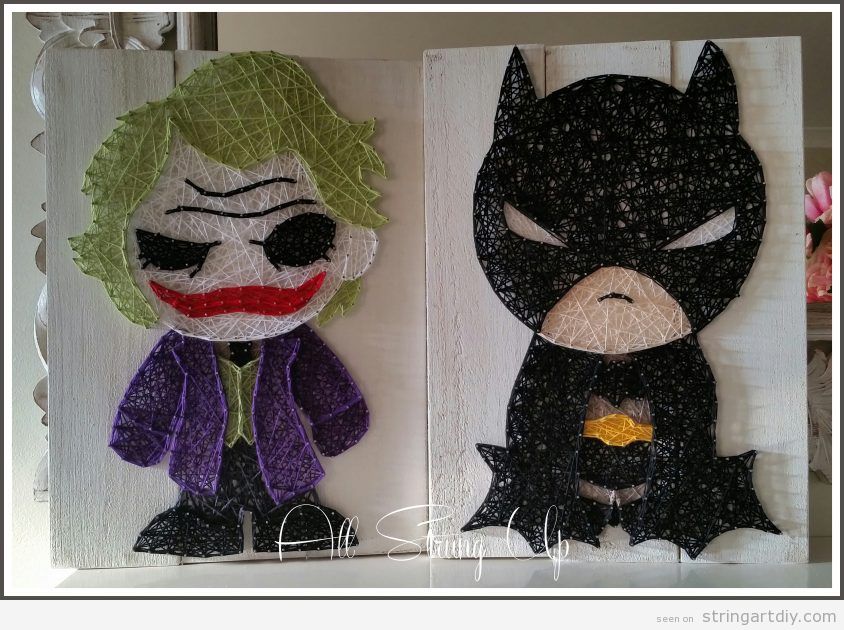 Batman and Joker are my favourite antithetical characters. This way to reprsent them, also in a "chibi" style it is super cute.
Have you like them? Remember that you can buy these Strign Arts on the All Strung Up Shop! Have a nice week and please, follow us on the social networks as Twitter @stringartdiy and Facebook String Art. See you!