Kids
Heeey! If you are looking for an easy String Art for begginer or for make with kids and teenagers, maybe this video made by Diego Rojas will help you.
As you can see, you only have to nail the nails in a wooden board following the line of a circle. We recommend to print the shape or draw it using a pencil and then pin the nails around it. After that, you must cross the threads in the order you can see on the video. Then, repeat the process twice using some different colours and that's it.
An that's all! You will have a perfect handmade project to decorate a wall.
The school year has already started and we need a lot of ideas to make crafts with our kids or little students.
Easy Peasy and Fun it's a lovely site full of crats ideas for kids, as his name says, they are easy-peasy and fun to make. We have searched his String Art projects fors kid and we have found these 4 lovely crafts.
As you already know, to make it, we just need a wooden boards, nails (or thumbtacks), a hammer and threads (nylon, cottonr or wool)
Here they are!
BOAT STRING ART
LADYBUG STRING ART
STAR STRING ART
FLOWER STRING ART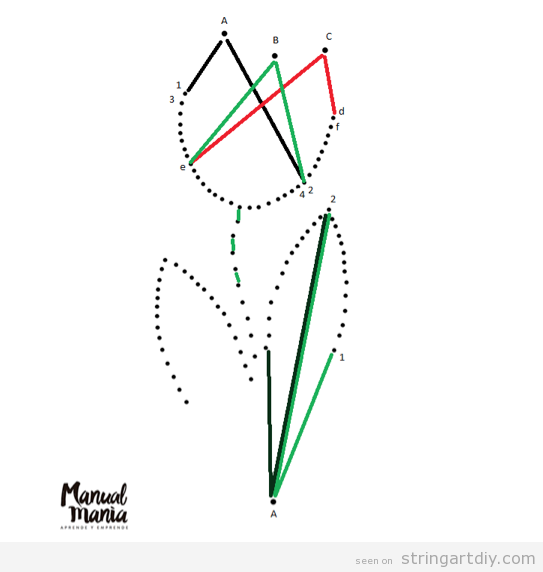 Here you have a flowers pattern that you can download for free. As you see, the shape is simple, so it's perfect for String Art beginners and kids. And even more, you can see numbers and letters to follow the thread sequence and make it simplier.
Doy ou like it?
HelloKids-us show us in this video a great way to make a Geometric String Art, even to make with kids. Look how they use clothespin in order to not to get damage in the fingers when you hammer the nail.
At the same thime they are having a great time making a craft, they learn geometry and maths. Just a perfect work to make with kids!
Do you like this wonderful String Art Christmas Tree on a wall that also could be used as a card display? It's a lovely idea to decorate your home at Christmas and your kids will love it!
Are you looking for a crrat or technology (or even marths) project to make with your kids or students? Here we have a lovely one, perfect for Christmas (that are coomiing…).
As you can see, is a Star String Art on a wood base, and the results can be very different.Here you have the tutorial made by
Plástica en el Valle
(a blog for the students of Ramón del Valle-Inclán secondary school, in Sevilla, Spain).
Enjoy it!
To work with wood and nails could be a little bit dangerous for kids, that's why we suggest you to make a string art with cardboard, a round pointed needle and threads instead of wood and pins. Don't use paper, is too thin and it can't bear the weight of the thread.
This is a really cool craft to make with kdis and you can choose the shape, word or name you like the most.
Maria 28
shou us in this video tutorial an easy way to make a Pumpink Sting Art, perfect as a craft to make today with your kids and for decorate your place for Halloweens night (is tomorrow!!)
I hope you enjoy it.
Hi, sweeties! Friday at least! If you will have a rainy weekend at your city and you will stay at home, there is a craft that you can make with your kids. As usual, we offer you a tutorial to learn how to make String Art projects.
In this case,
¡Hoy no hay cole!
(No school today!) show us how to make a cloud and rain String Art in a very easy way.
Enjoy it, have a great weekend!
¡Hoy no hay cole!
show us in this tutorial an easy way to make a String Art projects with kids. In this case, it's a wonderful dandelion made on  green painted a board. Just beautiful!