Ideas
Ho, ho, ho! We are already getting in the mood for Christmas so we are fancy making Chritmas String Art DIY decorations and ornaments for our home. We have selected 5 projects that we have loved very much, so here we go!
STRING ART CHRISTMAS TREE ORNAMENT
As a Christmas Tree ornament you can make this wonderful wood slice string art. We can draw a tree, a star, a snowflake… whatever you like the most. You can get more information about this DIY by visiting the web Happy Brown House
STRING ART ELF LEGS
We think that these elf legs are so cute! As we can see on the picture above, it's a complexe String Art on a round wooden board. It is a little difficult to ake, so if you can't reach a good result, you can buy it at Etsy VotreVieEnRose shop.
STRING ART CHRISTMAS, GRINCH HAND
If you don't like Christmas Time  very much and you feel like if you were The Grinch, this Merry Grinchmas String Art is perfect for decorate your home. This projecis is made by EveryStringAttached.
STRING ART CHRISTMAS, SNOWFLAKE
Another nice Christmas ornament to decorate your house could be this snowflake String Art on  a thick board, traead as if it were antique. You can make it yourself or by it at Bring it Home.
STRING ART CHRISTMAS TREE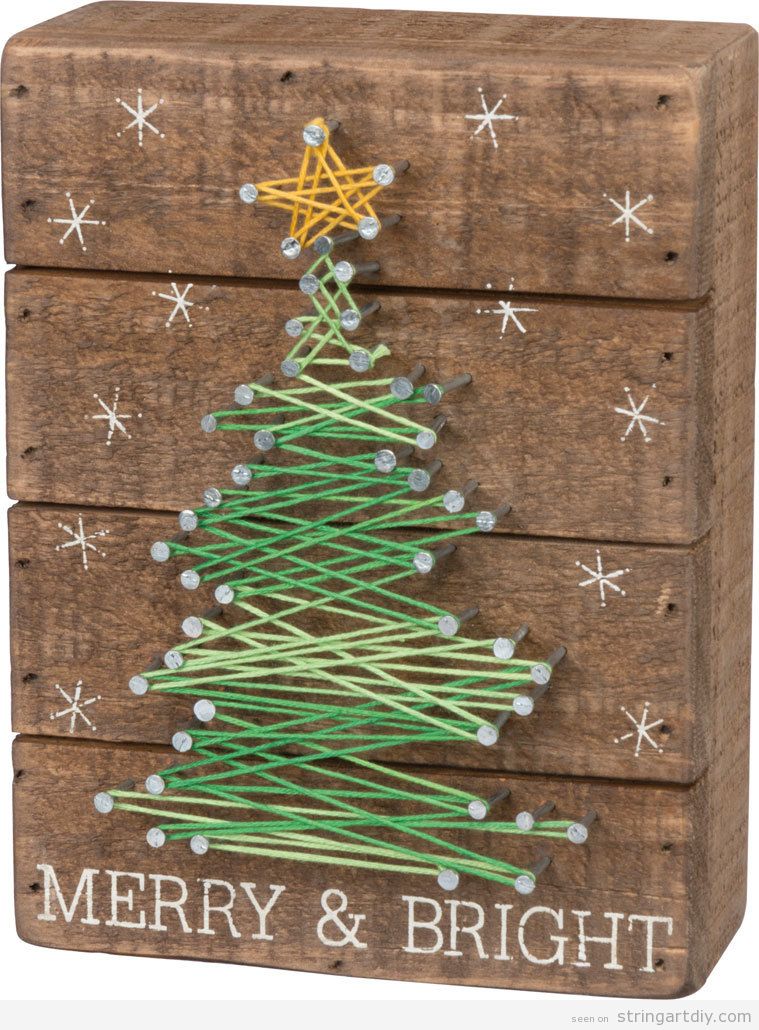 Finally we want to show you this wonderful String Art Christmas Tree, also made on a thick wood board. It would be even more beautiful if you draw some stars or words, as merry & bright. Also you can do it yourself or buy it at California Seashell.
Have you enjoyed these projects? If so, please, share with your friends on your social networks and send us pictures once you have finished your String Art DIy Projects. Thanks!
The school year has already started and we need a lot of ideas to make crafts with our kids or little students.
Easy Peasy and Fun it's a lovely site full of crats ideas for kids, as his name says, they are easy-peasy and fun to make. We have searched his String Art projects fors kid and we have found these 4 lovely crafts.
As you already know, to make it, we just need a wooden boards, nails (or thumbtacks), a hammer and threads (nylon, cottonr or wool)
Here they are!
BOAT STRING ART
LADYBUG STRING ART
STAR STRING ART
FLOWER STRING ART
We really love this DIy craft in order to decorate a nursery, child bedroom or even a cafe or a shop.
Let's do this!
Here you have and example that show us the result when you decide to make a String Art directly on a wall. It's super nice to deorate a room, a shop, a pop-up store, a meeting… whatever! As you see, the diamond pattern is very easy to make and just wonderful! Using neon threads is suepr cool!
Via HGTV Handmade
Wow, if you really love sueprheroes, specially "The Avengers", this is the best craft ever to decorate a wall! That's also a nice piece of craft to give as a present to your geek son, friend or boyfriend. As you see, it's a 4 piece String Art. Love it!Source:
halftonehandicrafts