Patterns and Templates
Free String Art patterns and templates to download.
One of the most amazing female artists and one of our favorites is the mexican Frida Kahlo. Her protraits are very famous and his physical appearance too, is for that reason that today we have thought about making some Frida Kahlo String Art and we have searched some ideas to inspire you.
FRIDA KAHLO STRING ART TEMPLATES
As a template four can use an image or her or maybe a drawing or one of her portraits paintings, but there are two elements that are basic to represent Frida and they must be in the String Art: the two eyebrows joined and flowers over her head. Here you have two templates that maybe they have used to create these artworks:
FRIDA KAHLO STRING ART: DISTINCTIVE TRAITS
As you can see in this String Art (sorry, we haven't found the credits, if it yours, please let us know), Frida Kahlo is represented with distinctive traits, as real flower on her head, eyebrows joined, big red lips and two big earrings. We really love the purple hair and the pink pashmina.
In this one, we have less distinctive traits but we are able to recognize her: hair updo with flowers, eyebrows joined and red lips.
Another one very similar Frida Kahlo String Art made by Kimerly Marie but she adds the element of a big necklace that she usually wore. Pay attention to the fact the flowers are real too.
FRIDA KAHLO STRING ART: FULL FACE
If you prefer make a Frida Kahlo String Art with her full face, here you have a wonderful one made by @yovsgh and based on a geometric drawing shown above. It's really beautiful and we can see another time flowers over this head and big earrins.
@mialazoqro has chosen the same drawing but she has used brighter threads and the contrast is higher. Spectacular!
We hope that you have enjoyed these Frida Kahlo String Art and that know you are fancy making one similar. Enjoy it!
If you have not tested it yet, try it: making String Art projects is one of the most relaxing things in the world! Now that the summer is coming and maybe you'll have a little extra free time to make your DIY projects, take a look to this one because it's gorgeous!
As you can see, it's a flamingo, one of the most extraordinay and curios and strange animal. Its look is perfect for the summer. You can see flamingo prints everywhere because its image it's refreshing and cooling. This flamingo String Art seen on La Buhardilla would be a perfect DIY piece of art to decorate your living room, office or even your studio, shop or café.
MATERIALS YOU NEED
To make this wonderful Flamingo String Art you will need these materials on the image above:
Wooden board
Flamingo template
Tracing paper or scissors
Hammer
Nails
White, black and flamingo pink thread
FLAMINGO TEMPLATE
As you will need a flamingo template, you can download this one for free.
FLAMINGO STRING ART STEP BY STEP
It would be useful to draw the flamingo shape on the board. You can cut the shape and fix it on the board or maybe you can use a tracing paper to draw it.

The next step, as you maybe already know, it's hammer the nails around the flamingo shape. It's very important to hammer them marking the most important points in the shape and trying to keep an equidistant distance between them. Then, you have to be patient and start to interwave or interwine the threads. Enjoy this process, it would take a little bit because you have to pass the threads a lot of times, but it worth it.
Do you have any question about the process? If you do, write us in "Comments" o send us a message via Twitter or Facebook and we'll try to answer it as soon as possible. Thanks for reading us!
Hot Air Balloon is one of the most beautiful figures to make a String Art. Their shape it's simple and lovely, but it also it's good base to create volume effects, geometric figures or even replace the outline and fill it with another figures or animals.
Hot Air Balloon String Art templates
Fist of all, we want to bring you some Hot Air Ballon free templates in case you want to print it and use it to make easier the process. Here you have some of them:
Source: Get Coloring Pages
Source: Bird's Cards
Source: Hello Kids
Simple Hot Air Balloon String Art
Let's start with some simple Hot Air Balloon String Art that you can made it easly. They are a beutiful idea to decorate a nursery or a baby clothes shop.
Oow, this air balloon surronded by clouds and made by mintiwall it's just perfect.
We really find this String Art nice because with a colorful zig-zag print creates a volume effect. This is a handmade project made by @simply_stringart.
Hot Air Balloon Butterflies String Art

As we can see, Beachmade has replaced the classical hot air balloon outline for butterflies and the result it's absolutely amazing.
We hope that you find this resources and ideas useful in order to Do it Yourself. Maybe, after finished the String Art, you can gave it to a child as a present or event sell it on flea markets and online shops. Have a nice week!
Hi, guys! Today we have find this amazing Electric Guitar String Art made by La Buhardilla and we want to share the process with us in order you can learn how to make it.
As usual, you will need the following materials: a wooden board, a hammer, scissors, nails, threads (black and white) and a template.
First of all, here you have the templeate, so you can download it:
You can download a higher version of this template to print it in this link: Download the pattern by Pattern Universe.
Then, we start the process, wich is almost always the same.
You must put the pattern over the wooden board and, then, start to clue the nails on the shape.
2. Once you have finished, retire or remove the paper and you will have all the guitar shape and its decorations.
3. This is the moment when you start to put the threads over the nails. Make a loop around the nail heads. Pay special attention if you want to make the guitar in different colours. This one is in black and white but you could chose whatever colour you like the most.
4. That's it! Put the String Art in a wall to decorate it. This it's also a nice handmade gift.
Have you like it? So comment and share! Thanks for reading, see you soon!
Today we bring us 4 patterns inspired in islamic geometry that we can see in islamic art, specially in tiles and wooden lattices. You can download it for free, as usual.
You can use these free pattern to make a wonderful geo String Art DIY too, even if your are not muslim, but you really love their artwork or culture.
There are not very easy to make because the figures are complex, but the amazing result deserves the hard work. We hope you enjoy it.
You can show us your piece of arte once finished via our Twitter @stringartdiy or facebook String Art DIY
Source: Geometría Dinámica
Here you have a free template to downlad with the word "LOVE" to make an adorable DIY String Art.
We have to say that the most important points are in the corners (except in the "O"). You can space the other points in the way or distance you prefer the most.
You can download de full resolution image (1754 px × 1240 px) in this link: Download LOVE String Art template
Thanks to I am a mess to share this and other patterns with us in her blog.
As always, enjoy the handmade craft and share it with us in our social networks! Twitter: @stringartdiy and Facebook String Art DIY.
See you soon!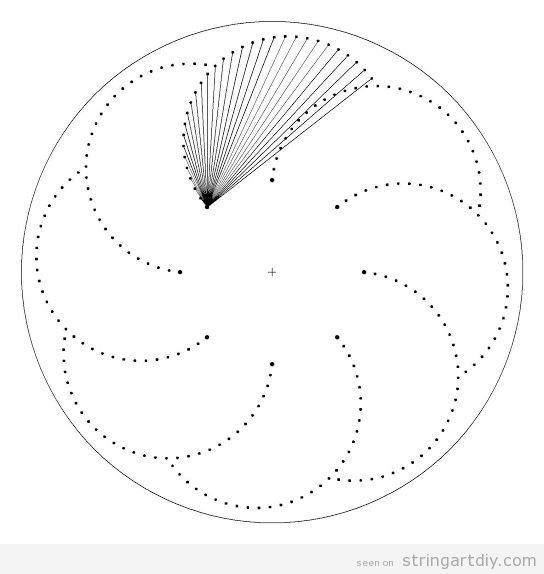 Hi everyone! Although we are in summer, we don't stop, even on holidays! You can use your free time to spend quality time with your kids or with yourself by making this kind of handmade project that you can use to decorate the libing room.
As you can see in the pattern, it's a kind of spiral shape repeated, and it results a klind os cloudly circle or a kind of windmall, but with rounded blades. Pay attention, you have to start to throw the threads by each point marked.
As a result, you have a klind os 70's String Art, old school but cool.
Credits: Vero B – broderie sur cartes
First of all, Happy Ramadan (Ramadan karim!) to all our islamic or muslim users and visitors.
Today we show us a pattern inspired in islamic geometry that we can see in mosques, wooden lattices at home, tiles in "hamam", etc. You can use this free pattern to make a beautiful String Art too.
We hope you like it and try some different geometric patterns 🙂
Source: Geometría Dinámica
I really love these three verbs, they combine perfectly: "Live, laugh and love". It's a good message to write on a board, also if it is written with nails and threads, and a good idea to decorate a living room and to rembember all the family members to to these 3 things everyday.
Source: Spijker Patroon
Thanks to Zim & Zou to share with us this amazing free String Art pattern. We can see all the alphabet letters on it!
If you wanna know how it will be once made, there is thig incredible animated gif!
You can see more pics from this project by clicking the following link: Weave type
We hope you find it interesting and useful in order to make DIY String Art names.