Tutorials and Videos
Tutorials and videos to learn how to make your own String Art Craft project.
Are you looking for a crrat or technology (or even marths) project to make with your kids or students? Here we have a lovely one, perfect for Christmas (that are coomiing…).
As you can see, is a Star String Art on a wood base, and the results can be very different.Here you have the tutorial made by
Plástica en el Valle
(a blog for the students of Ramón del Valle-Inclán secondary school, in Sevilla, Spain).
Enjoy it!
You will need these supplies to make this snowflake String Art
– Wooden board
– Nails
– Hammer
– White string
– Scissor
– Template
Here you have the template for free download:
Created by Muhaiminah Faiz on Guidecentral English channel.
First of all, you have to sand the wood and varnish it. Then, draw the shape on a paper and fix it to the wood. The next step is to clue the nails all over the shape. When you finish it, move away the paper and start to pass the thread the and knot it to the pins. Then, you have finished, congrats!
We hope that this tutorial by
eleFANTASIAndo
is useful to you.
Maria 28
shou us in this video tutorial an easy way to make a Pumpink Sting Art, perfect as a craft to make today with your kids and for decorate your place for Halloweens night (is tomorrow!!)
I hope you enjoy it.
To make this amazing Skull String Art to decorate your place for Halloween, you will need:- Canvas (anysize)
– Paint (your choice)
– Paint Brush
– String (your choice)
– Scissors
You can download the pattern for free in this link: Skull Pencil Drawing
Source: suzaxne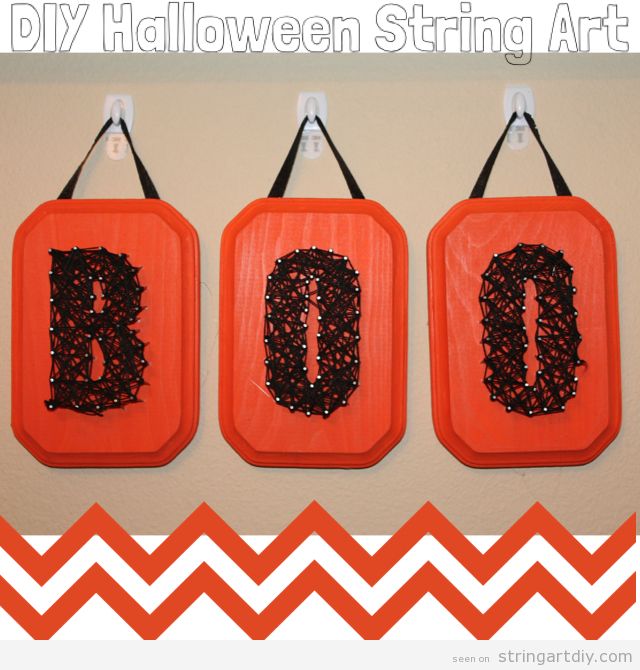 Wow, we really love this Halloween decoration DIY! As you see, it's a "Boo" String Art. Very very nice!
If you want to see the full tutorial step by step, we recommend us to visit the following link:
Simply Being Mommy – DIY Halloween String Art
Hi, sweeties! Friday at least! If you will have a rainy weekend at your city and you will stay at home, there is a craft that you can make with your kids. As usual, we offer you a tutorial to learn how to make String Art projects.
In this case,
¡Hoy no hay cole!
(No school today!) show us how to make a cloud and rain String Art in a very easy way.
Enjoy it, have a great weekend!
Hey! Today we want to show us how to make a cat String Art using board, threads and pins.
If you wanna see the full process, step by step and detailed, visit the following lnk:
Almu D Arte
.
She has really done a great job, drawing each step of the process. Lovely!
Usually, we show you how to make String Art projects on a board or on a wall, but today we wanna show us how to malke a String Art flower on a cardboard, and, then, turn it into a brooch, bookmark or to decorate a scrapbook, whatever you like.
We hope you enjoy this easy craft taht you can also make with kids.
Source: Karenliz Henderson
When you make a String Art, you can compose every shape with plenty of little shapes inside. For example, here you have a big heart composed by flowers, zigzag, spiral, little hearts and an "S". I really love it, it0s a great idea to decorate a children or teenager bedroom.
You can learn how to make it by watching this tutorial by
ChuladasCreativas
-.
I hope you enjoy it!